A hydraulic pulverizer, also known as a hydraulic crusher, is a kind of front-end excavator attachment. They can break concrete blocks, columns, etc., and cut and collect the steel bars inside. They are widely used in the demolition of factory beams, houses, and other buildings, rebar recycling, concrete crushing, etc.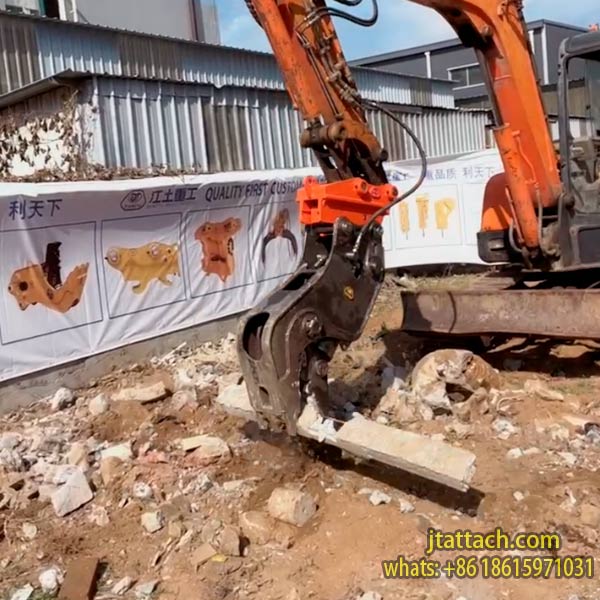 At present, Jiangtu first-generation hydraulic pulverizer is designed as a fixed head, which features a large crushing force, fast speed, and high efficiency, and is more suitable for secondary demolition.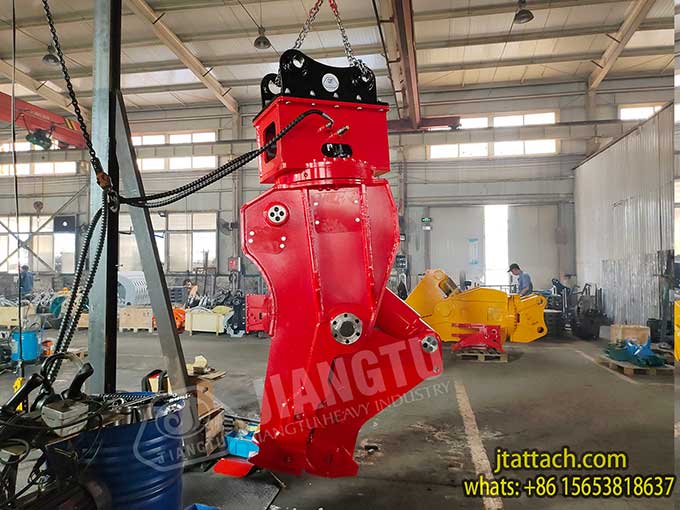 In order to meet the demand of the first demolition, Jiangtu R & D team added a 360-degree rotation function on the pulverizer to improve the maneuverability and precision of accurate operation, and is suitable for the first demolition of floors with different angles and directions.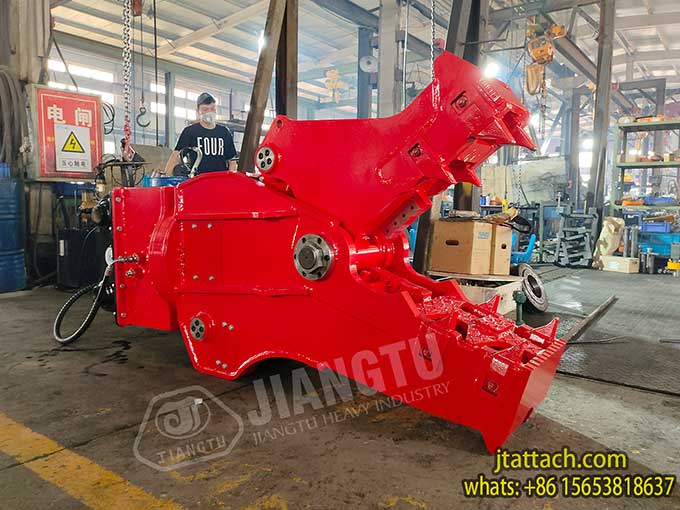 In addition, considering that the teeth on the pulverizer are a quick-wear part, the R & D team designed replaceable teeth for the convenience of replacement, which can be replaced individually or all, so as to reduce the customer's maintenance cost.
Features of Jiangtu 360°Hydraulic Rotating Pulverizer
●Improve the maneuverability and accuracy of the operation
The 360° slewing support rotation system is added, so that the machine can rotate 360 ​​degrees freely, improving the maneuverability and accuracy of operation.
●Customized teeth and blades for easy maintenance and low maintenance cost.
Replaceable teeth can be replaced one or all according to the need.
The replacement is simple, which makes it convenient for customers to replace the damaged teeth, saving time and effort.
●More suitable for working at heights
The 360°Hydraulic Rotating Pulverizer is more suitable for the initial demolition of the building because of the maneuverability and accuracy of its operating angle.
●Low noise operation
Reduce noise and vibration while breaking concrete and cutting rebar.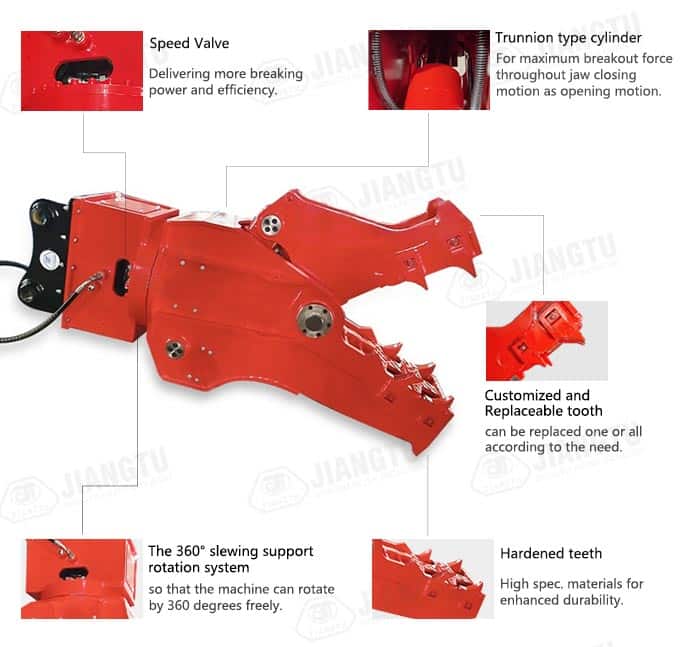 Meanwhile, Jiangtu hydraulic Rotating pulverizers still retain the characteristics and advantages of ordinary hydraulic pulverizers.
●One machine owns multiple functions, with integrated functions of crushing concrete and cutting steel bars, with large crushing force and fast speed;
Equipped with a German M+S motor, the power is stronger and more stable.
●Finishing, using high-strength wear-resistant plates, more durable;
The material is made of ThyssenKrupp XAR wear-resistant plate, and the shear blades are made of imported materials from Germany, which are highly resistant to building wear and durable.
●Easier demolition and longer service life;
The large-diameter, powerful imported oil cylinder can provide maximum crushing force and is easy to maintain, making demolition easier and having a long service life.
● High work efficiency
Equipped with an acceleration valve, it can provide fast jaw opening and closing, quickly separate reinforced concrete and collect steel bars, and improve work efficiency.
● After-sale guarantee
"one-year warranty, 6-month replacement" after-sales policy is offered, Please rest assured to buy.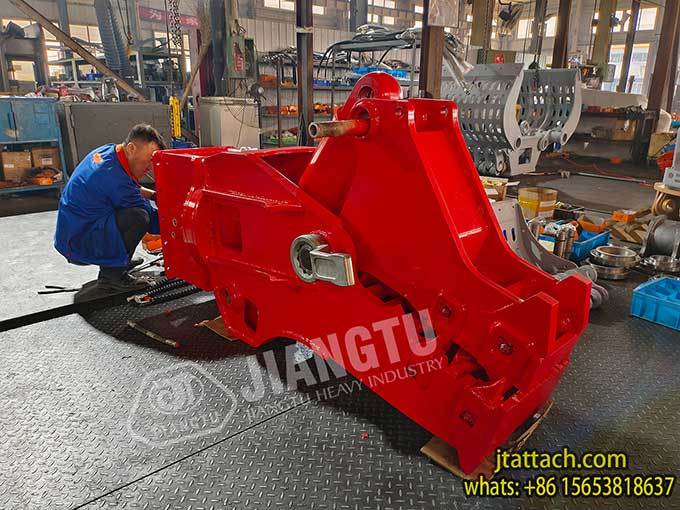 Hydraulic Rotating Pulverizer is widely used in the demolition of factory buildings, beams and columns, civil houses and other buildings, steel bar recovery, concrete crushing, etc., due to its features of no vibration, low dust, low noise, high efficiency and low crushing cost.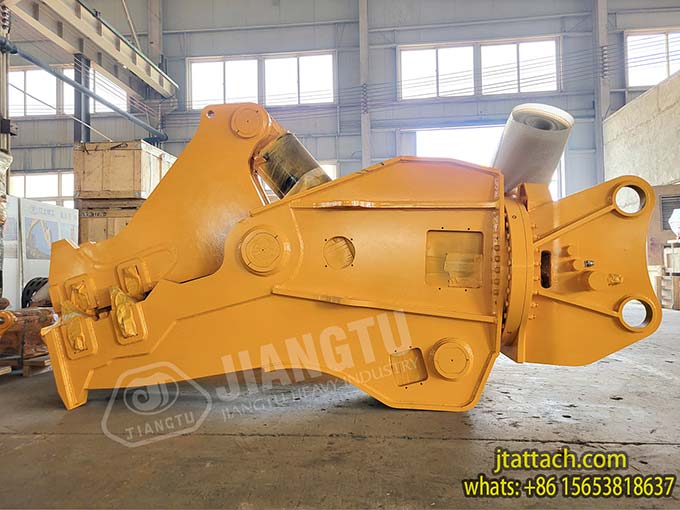 Its working efficiency is two to three times that of a hydraulic breaker.
If needed,let's talk. Tel/whatsapp: +186-15653818637
SERVICE
10 YEARS OF INNOVATION
With nearly 10 years sales and service experience, We continually invents and develops our products to provide our customers with the optimal performing products.
MARKET NETWORK
We mainly sold our products to China, Russia, USA, Canada, Japan, Korea, Malaysia, Hong Kong, Taiwan, India, Indonesia, Australia, New Zealand, Israel, South Africa etc.
REQUEST QUOTE
Submitan inquiry to get a quote