JIANGTU Excavator Earth Auger is a Kind of digging machine. Used for tree planting, pole hole, drilling, photovoltaic pile.it can be mounted on all common hydraulic excavators as well as mini-excavator and other carriers like skid steer loader, backhoe loader, crane, telescopic handler, wheel loader and Loader and other machinery.
Specification
Videos & Images
Features
Certificate
Services&Warranty
Review
JIANGTU Excavator Auger is a kind of post hole attachments which is mainly used in excavators, skid steer loaders, mini loaders, mini excavators, backhoe loaders, telescopic handler, wheel Loader and other machinery.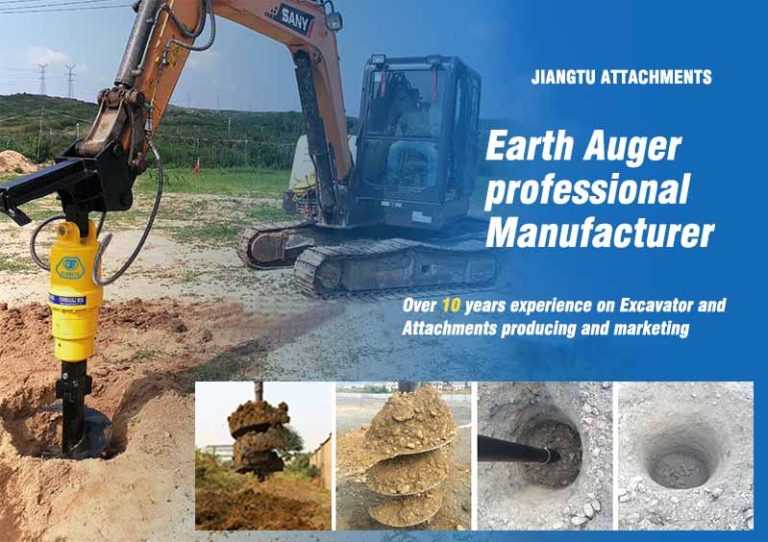 JIANGTU Excavator With Auger usually applied in exploration and research, ground source heat pumps, fence, landscaping, tree planting, Well boring, foundation piles, screw pile installation, pole, and mast installations, road signage, sound barriers and so on.

Please check the following specifications to choose the right Excavator Auger model.
Hydraulic Earth Drill Auger For Excavators
Parameter
Model No.
JTmini
JT02
JT04
JT06
JT06S
JT08
JT08S
Excavator Weight (ton)
2.5-4.5
4.5-6
5-8
13-17
15-17
15-20
17-30
Measurement (mm)
φ200X585
φ270X850
φ270X850
φ300X945
φ300X945
φ345X1155
φ345X1155
Weight(kg)
60
100
152
170
175
265
272
Working Pressure(bar)
205
205
205
205
205
205
205
Max Pressure(bar)
310
310
310
310
310
310
310
Max Torque(nm)
3760
7300
8240
12300
15200
19800
24920
Rated Oil Flow(lpm)
150
150
150
150
150
150
150
Max Oil Flow(lpm)
210
225
225
170
210
210
225
Diameter of Oil Pipe
G1/2"
G1/2"
G1/2"
G3/4"
G3/4"
G3/4"
G1"
Digging Function
φ150-250 mm
3m
10m
10m
10m
10m
10m
10m
φ300-400 mm
8m
10m
10m
10m
10m
10m
φ450-550 mm
6m
8m
10m
10m
10m
10m
φ600-700 mm
6m
10m
10m
10m
10m
φ750-850 mm
10m
10m
10m
10m
φ900-1000 mm
10m
10m
10m
♣The company has been developed to meet the high standards of the current market.♣These specifications are subject to change without prior notice for the improvement of quality.
♣The demand for high durability and low maintenance costs on hydraulic equipment are combined in the total design of our Excavator Auger Drill Attachment.
Tell us the brand and model of your excavator, We are very glad to help you to select the right Excavator Auger.

Features of JIANGTU Excavator Auger Attachment for sale
1, Efficient: digging holes move strongly, deep pit probably can be completed in 30 seconds, efficiency is the traditional way of artificial digging holes more than one hundred times;
2, Operation is simple; An operator can complete all kinds of earth auger holes dug drilling work;
3, High work quality: using high strength drill, tensile spiral drill pipe, dug the holes, solid, pit soil-less allowance, the maximum depth can reach 250 cm;
4, Strong adaptability: with two wheels move, this type of equipment has strong off-road performance, hills, mountains, etc all can well adapt to the complex terrain, can in the north, clay layer, containing pebbles gravel soil and weathered rock and soil layer construction work on most of the soil;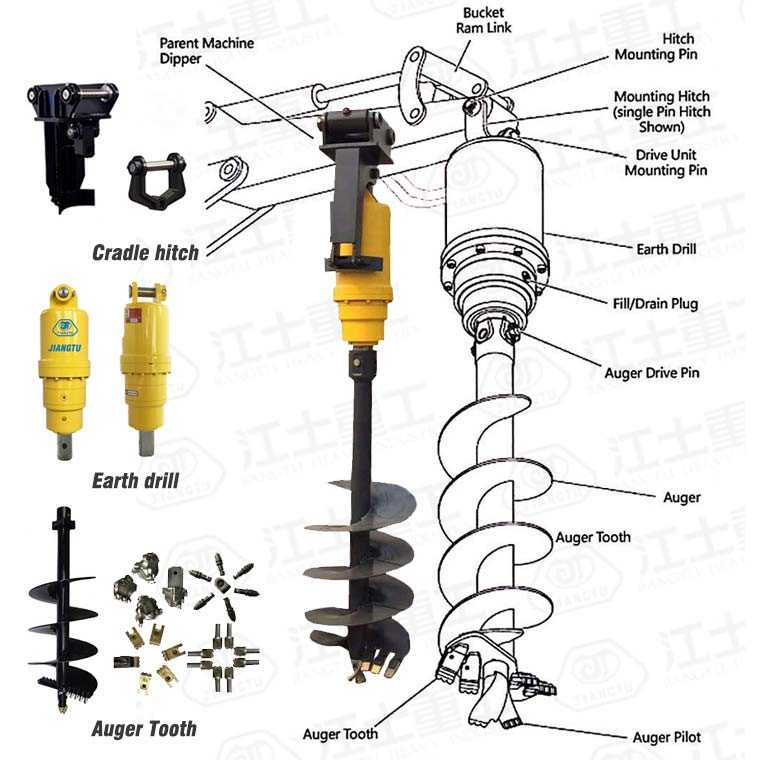 Choose the right auger on excavator
In order to choose the most proper model auger drill for your excavator/crane, you need to provide:
1.Model of your excavator/skid steer/backhoe/tractor/crane.
2. The diameter of the hole to be drilled.
3. Depth of hole to be drilled.
4.Your working ground condition(ground type).
How to Choose the Most Suitable Hydraulic Earth Auger for Your Excavator or other Machine?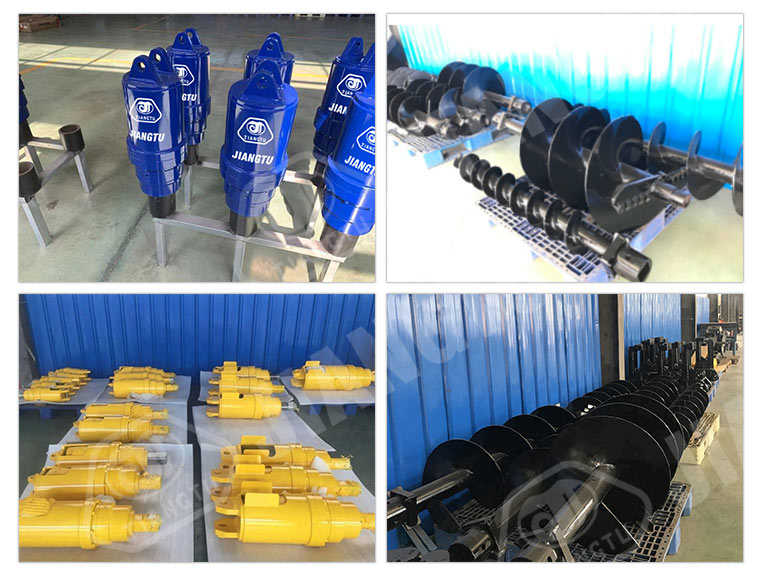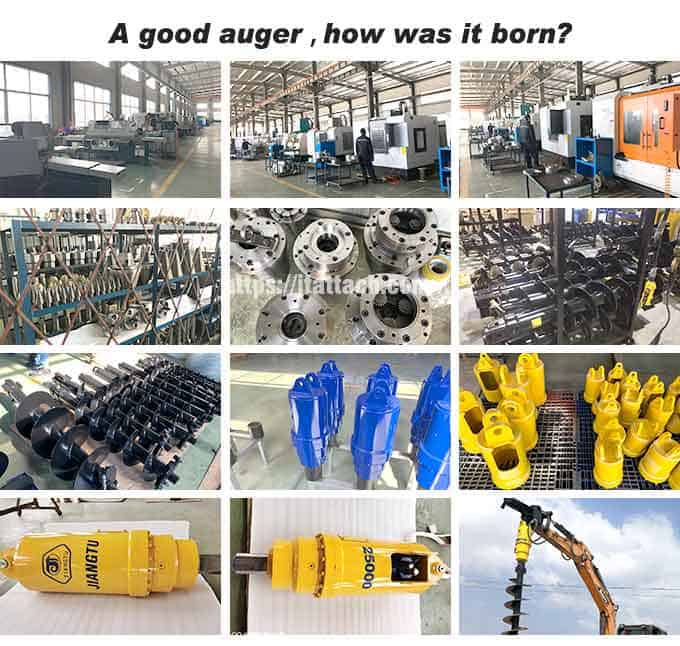 hydraulic-earth-auger-for-excavator-production-process-JIANGTU-excavator-auger-manufacturer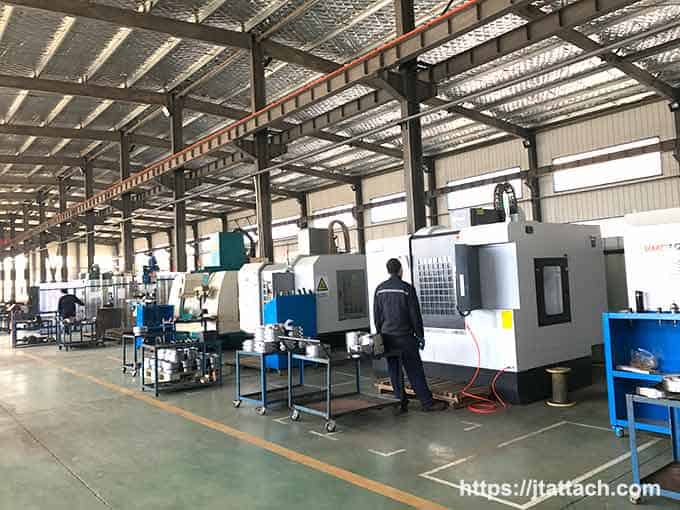 workshop-of-hydraulic-excavator-earth-auger-manufacturer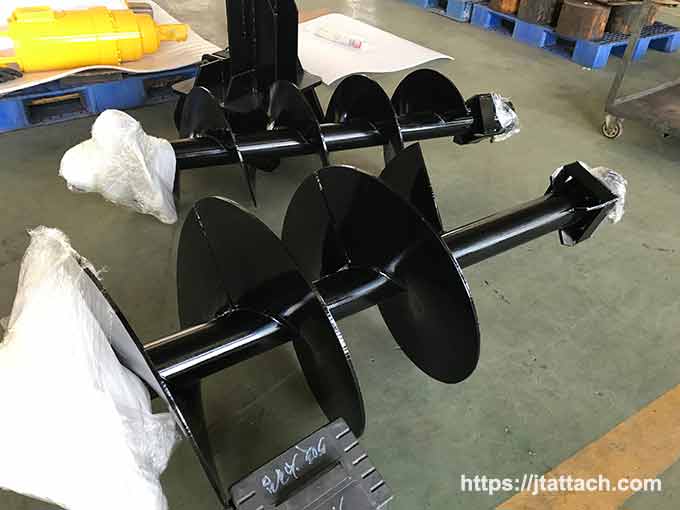 Best-Earth-Auger-Drives,Hydraulic-auger-for-mini-excavator-for-sale-in-China-JIANGTU-Attachment
Our Service
1. We can offer a comprehensive range of auger drives, auger drills, extension bars, cradle hitch.
2. Of course, You may rest assured that all of our products can be supplied in a wide range of designs, and the product can be customized according to your personalized requirements to meet your requirements. Meanwhile, we can offer an excellent after-sale service.
3. Your business relationship with us will be confidential to any third party.
4. We promise to reply to you upon receipt of your inquiry within 12 hours.
5. The order will be produced exactly according to order details and proofed samples, our QC will submit the inspection report before shipment.
OEM
1. Offer your design documents or let our design team work out some concepts for choosing.
2. We will always provide you with a virtual pre-production proof that shows the exact placement of your logo on the product.

FAQ
1. Q: Are you a manufacturer?
A: Yes, We are an enterprise integrating research, development, production, and sales.
2. Q: Are you sure that your products will fit my excavator?
A: JIANGTU earth drill can be adapted to different excavators. Show me your model number, and we can give you the best solution.
3. Q: How deep can I drill?
A: There are extensions available for every Earth Drill however maximum drilling depth depends on the following conditions:
a.The diameter of the hole to be drilled
b.Depth of hole to be drilled
c.Type of parent machine to be used
d.Ground-type to be drilled
JIANGTU excavator auger, produced by the factory, price concessions, direct shipment from the manufacturer, minimum order of one piece, can be sent worldwide. click for a quotation.
We also sincerely look for hydraulic auger dealers from all global markets. Competitive price, policy support. For more information?  please contact us.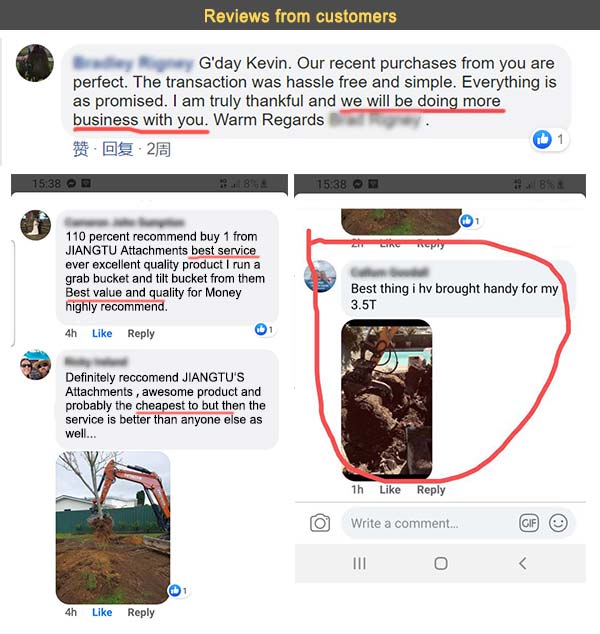 FAQS
Question:Which country have you been exported?
Reply:
Russia, USA, Canada, Japan, Korea, Malaysia, Hong Kong, Taiwan, India, Indonesia, Australia, New Zealand, Israel, South Africa etc.
Question:How about the Shipment?
Reply:
Shipment can be made by sea, air or land. Sea loading ports include Qingdao, Yantai and Shanghai etc. Sales manager will select an optimal shipping method for you. For more information, please contact with customer service staff.
Question:How about the package?
Reply:
Our attachments are packaged by standard export wooden cases free from fumigation.
Question:How about delivery time?
Reply:
Usually 15 days subject to order quantity. Due to the surge in orders, please check with customer service staff for lead time.
Question:What's the MOQ and payment terms?
Reply:
MOQ is 1 set. Payment by T/T, L/C, Credit Card, and Western Union is acceptable. Other payment method can be negotiated.
Question:Can I customize a product?
Reply:
Sure, we can provide OEM and ODM service.
Question:Are you sure your product will fit my excavator?
Reply:
Yes, we are professional attachments manufacturer, We make attachments according to your excavator bucket dimensions.
Question:Are you a manufacturer?
Reply:
Yes, our factory was established in 2011.
Ready To Know More?
Find out which attachment works best for you and get a quote!