JIANGTU mini excavator JT08C, The smallest mini-excavator ever made, its width:840mm, height:1040mm, length:2876mm, Weight:850kg. It's perfect for tight job sites because of its extremely small size.
Specification
Videos & Images
Features
Certificate
Services&Warranty
Description of Mini excavator JT08C
JIANGTU mini excavator JT08C, The smallest mini excavator ever made, its width:840mm, height:1040mm, length:2876mm, Weight:850kg. It's perfect for tight job sites because of its extremely small size.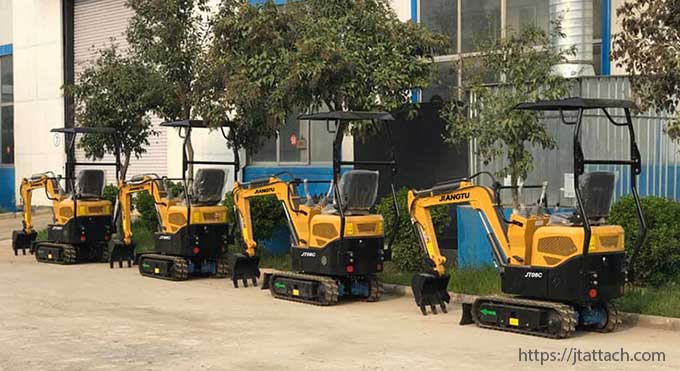 JT08C small excavator can work in narrow spaces for garden uses such as digging holes for trees or clearing land, digging pond etc. Small excavator would be the best around a small farm. They are sometimes called compact excavators, mini diggers or micro excavators.[/caption]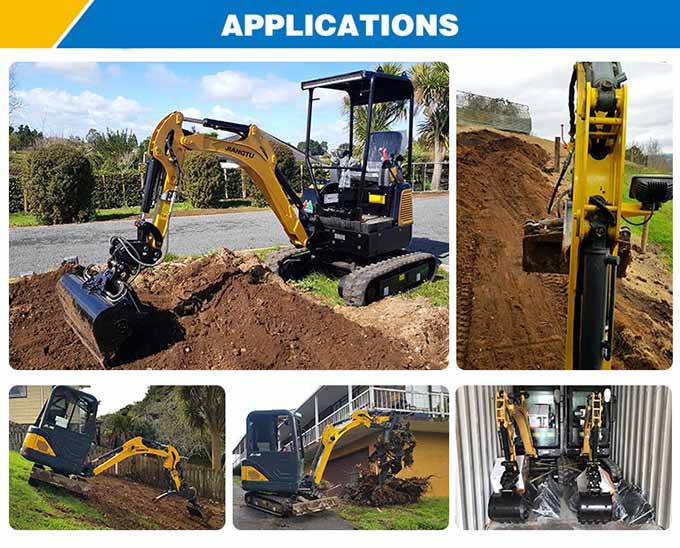 Small excavator JT08C
Model
JT08C
Operating weight (ton)
0.85
Bucket capacity (cbm)
0.022
Engine model
KOOP KD192F-1
Rated power (kw/r/min)
7.0/3000
Hydraulic pump model
China Brand
Max.flow (L/min)
18
Working pressure (Mpa)
16
Control valve model
China Brand
Swing motor model
OMR200
Travel motor model
SMT310
Fuel tank capacity (L)
7
Hydraulic oil tank capacity (L)
14.5
Travel speed (km/h)
1.9
Swing speed (r/min)
13
Max. climbing degree (%)
58
Arm digging force
4.6
Bucket digging force (KN)
7.2
Average grounding pressure (Kpa)
20
A-Overall length (mm)
2876
B-Overall width (mm)
840/908
C-Overall height (to top of boom)(mm)
1040
D-Overall height (to top of cab)(mm)
1495
E-Counterweight ground clearance(mm)
385
F-Min. ground clearance (mm)
132
G-Tail swing radius (mm)
800
H-Track Ground Length (mm)
900
J-Track length (mm)
1233
K-Track gauge (mm)
670
L-Track width (mm)
840
M-Track shoe width (mm)
180
N-Turntable width (mm)
760
O-Max. digging height (mm)
2550
P-Max. dumping height (mm)
1687
Q-Max. digging depth (mm)
1787
R-Max. vertical wall digging depth (mm)
1626
T-Max. digging reach (mm)
3077
U-Max. digging reach at ground level (mm)
2992
V-Min. swing radius (mm)
1483
X-Distance between center of rotation and tail length (mm)
795
Y-Track shoe thickness (mm)
–
Z-Height of counterweight (mm)
366
A1-Ground length (in transportion)(mm)
2650
Arm length (mm)
800
Boom length (mm)
1480

Main features of JIANGTU mini excavator
1. Suitable for space operations in small areas
2. Convenient transportation
3. Fuel-efficient and cost-effective
4. Simple operation
5. Reliable performance and long use time
Details of small excavator for sale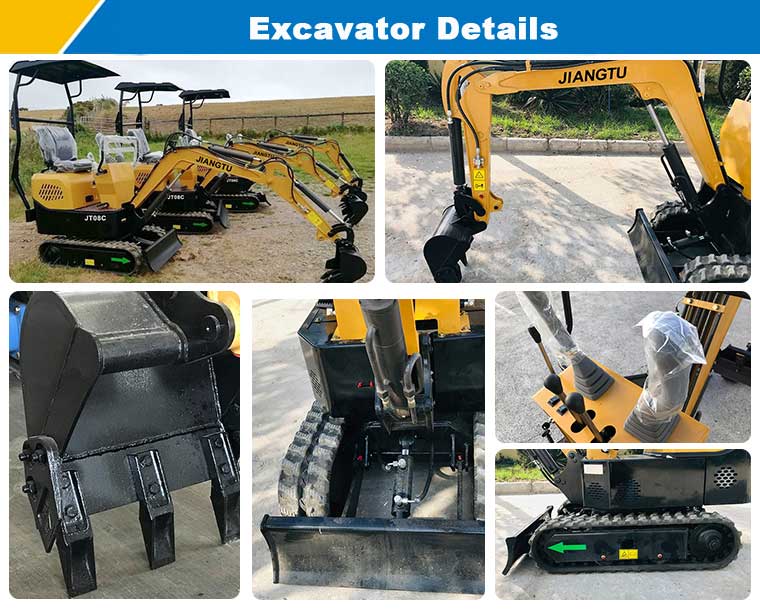 Small excavator price/cost
how much does a small excavator cost?Some small excavator brands,like cat,bobcat,jcb,kubota,etc, a small excavator maybe cost 15,000 to 20,000 dollars,A JIANGTU small excavator may cost 3000 to 5000 dollars.
That's why Jiangtu mini excavator is known for its low price and high cost performance in the global market.
Buy cheap small excavator,click here to get price of JIANGTU small excavator.
How to operate a small excavator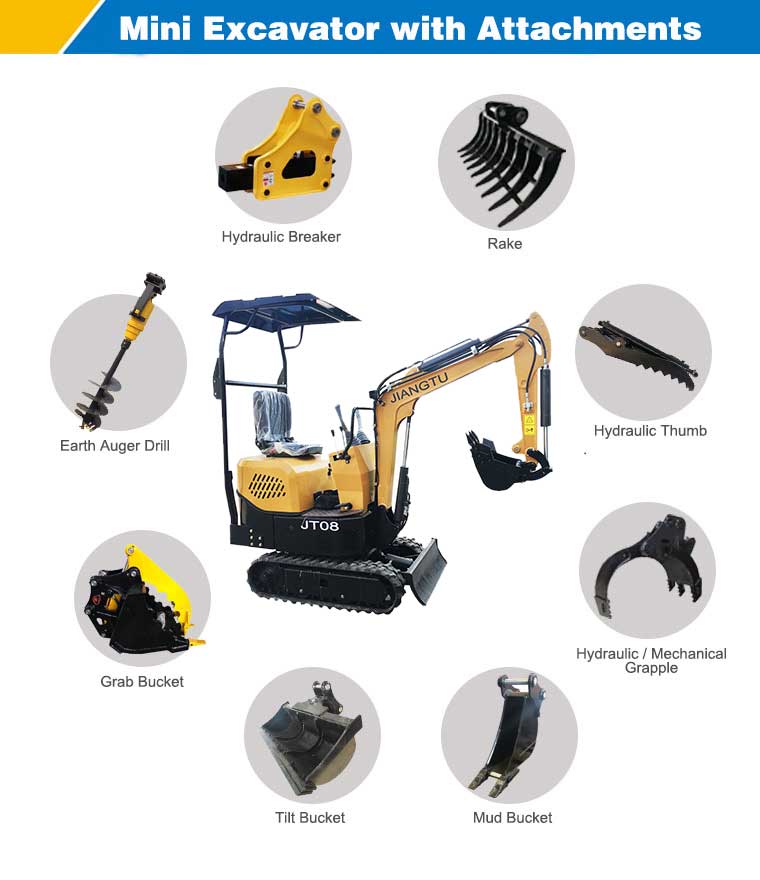 We can also provide small excavators with buckets, log grapple, thumb, breaker, grab bucket, rake, auger etc.
workshop-and-production-of-JIANGTU-mini-excavator-for-sale-in-China
Our Services of mini excavator
1. We can offer a comprehensive range of small excavators, mini diggers, Micro excavators.
2. Of course, You may rest assured that all of our products can be supplied in a wide range of designs, and the product can be customized according to your personalized requirements to meet your requirements. Meanwhile, we can offer an excellent after-sale service.
3. Your business relationship with us will be confidential to any third party.
4. We promise to reply to you upon receipt of your inquiry within 12 hours.
5. The order will be produced exactly according to order details and proofed samples, our QC will submit the inspection report before shipment.
OEM
1. Offer your design documents or let our design team work out some concepts for choosing.
2. We will always provide you with virtual pre-production proof that shows the exact placement of your logo on the product.
FAQS
Question:Are you a manufacturer?
Reply:
Yes, our factory was established in 2011.
Ready To Know More?
Find out which attachment works best for you and get a quote!