JIANGTU  backhoe breakers or hydraulic hammers for backhoe loaders are powerful percussion hammers fitted to backhoes for demolishing concrete structures or rocks.
Application:
1.Mining: Mountains, mining, crushing, secondary crushing.
2. Metallurgy, slag cleaning, ladle furnace demolition, demolition equipment foundation body dissatisfied.
3. Railway: tunnel, bridge, mountain down.
4.Highway: highway repair, cement pavement was broken, foundation excavation.
5. Other: ice breaking, breaking the Vibrating Sand
.……
Specification
Videos & Images
Features
Certificate
Services&Warranty
Review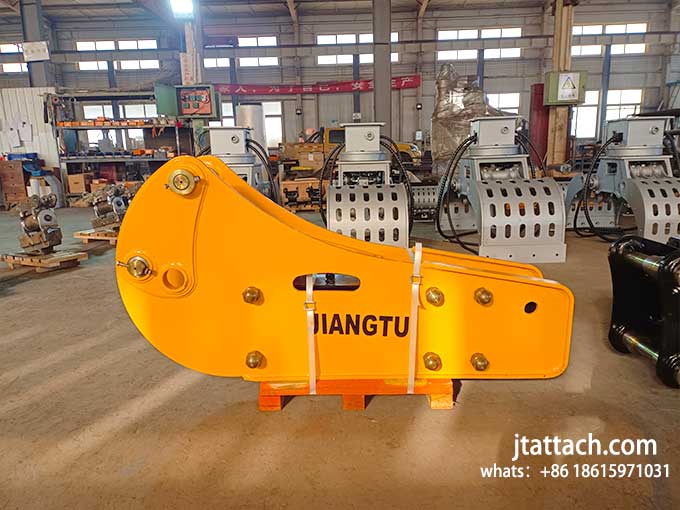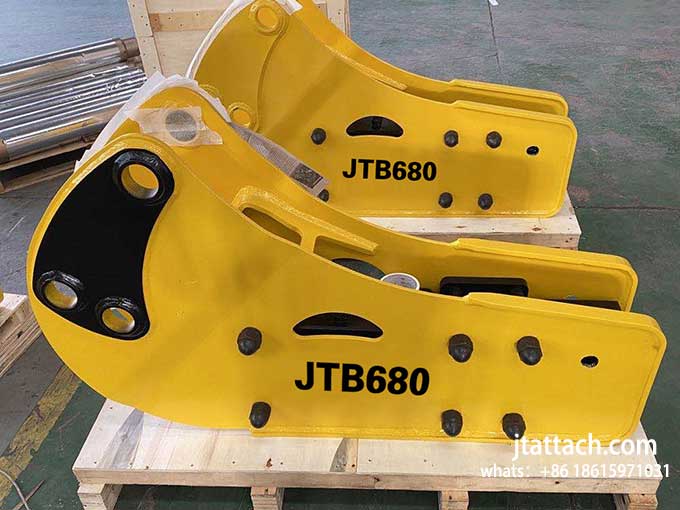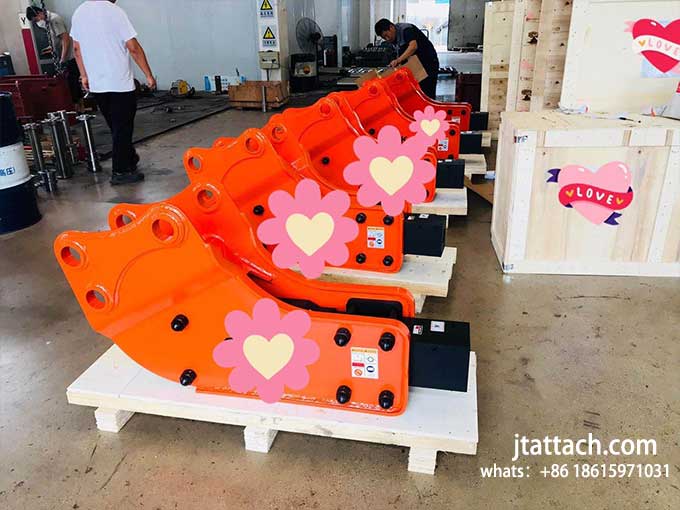 JIANGTU Hydraulic hammer for backhoes is an accessory designed to break concrete, rock, and other hard materials. They work on a short-term basis in a wide range of industries including construction, demolition, and mining.
As one of the leading hydraulic breaker manufacturers in China, JIANGTU has a full range of Hydraulic Breakers for backhoes from 0.8-60 tonnes. They are suitable for all kinds of brands and models of backhoes.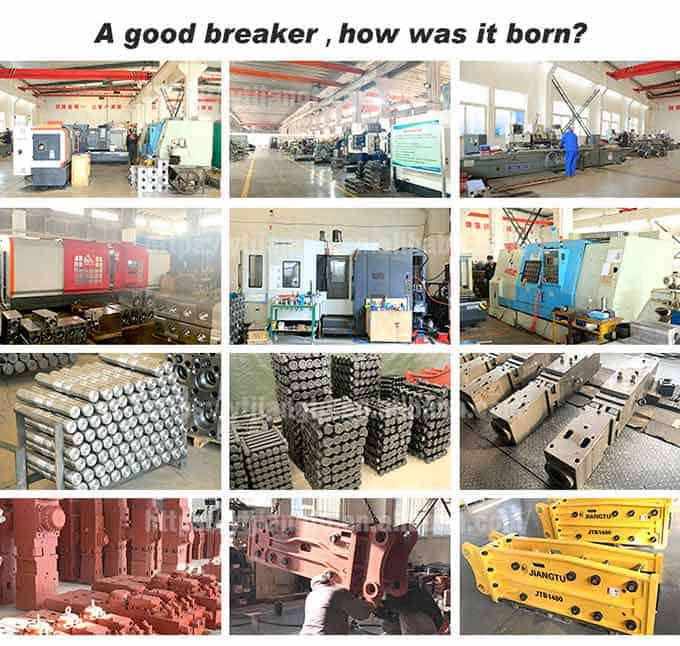 3 main types of hydraulic hammers for backhoes for sale:
> Side Type  rock breaker: Versatile application including rock broken, paving the road, building demolition, etc.
> Box Silenced Hydraulic Breaker: Low noise, saving energy and protecting the environment.
> Top Type Hydraulic Breaker:  Applied to a special operation that in a large elevation angle.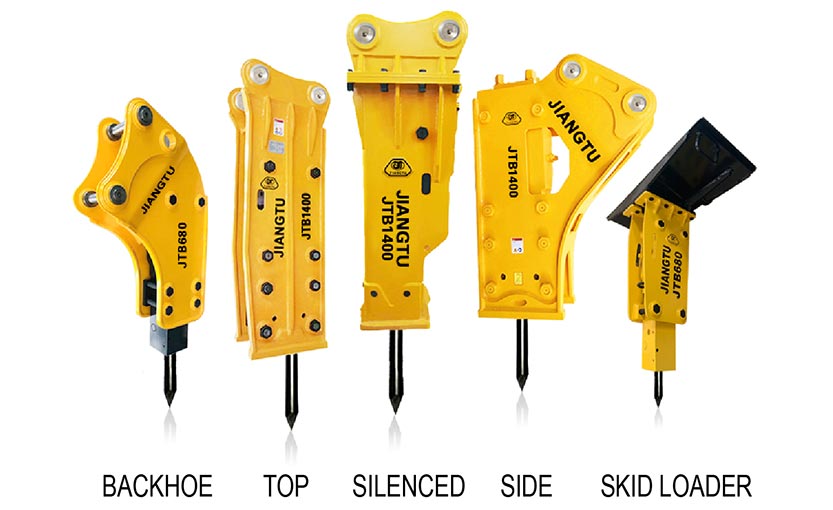 Please check the following specifications to choose the right hydraulic breaker model.
Hydraulic Breakers for Backoes

Model No.
Body Weight
Working Flow Rate
Working Pressure
Impact Rate
Hose Dia.
Chisel Dia.
Excavator Weight
(kg)
(L/min)
(bar)
(bpm)
(inch)
(mm)
(ton)
Light Type Hydraulic Breakers
 JTB400
 50
 20-40
 90-120
700-1200
 1/2
40
 0.8-2
 JTB450
70
20-40
90-120
700-1200
 1/2
45
1.2-3
 JTB530
90
25-45
90-120
 500-1100
 1/2
53
2.5-3
 JTB680
155
36-60
110-140
500-900
 1/2
68
3-7
 JTB750
210
50-90
120-170
400-800
 1/2
75
6-9
 JTB850
280
45-85
127-147
400-800
 1/2
85
7-14
 JTB1000
480
80-120
150-170
400-650
 3/4
100
10-15
Medium Type Hydraulic Breakers
JTB1350
846
130-170
160-185
400-650
1
135
18-25
JTB1400
920
150-190
165-195
400-800
1
140
20-30
JTB1550
1092
150-230
170-200
250-400
1
155
27-36
Heavy Type Hydraulic Breakers
JTB1650
1442
200-260
180-200
250-400
1.1/4
165
30-45
JTB1750
1930
210-280
180-200
250-350
1.1/4
175
40-50
JTB1800
2295
280-350
190-210
230-320
1.1/4
180
45-55
JTB1900
2520
280-350
190-210
230-320
1.1/4
190
50-60
Hydraulic breaker productivity rate( breaker capacity )

Productivity

Unit

 JTB400

 JTB450

 JTB530

JTB680

JTB750

 JTB850

 JTB1000

JTB1350

JTB1400

JTB1550

JTB1650

JTB1750

JTB1800

JTB1900

Non-Reinforced Concrete(t:30cm)

m³/8hr

2-5

4-8

8-16

20-25

20-50

20-55

30-60

90-200

100-220

250-400

300-550

300-700

350-800

380-950

Reinforced Concrete(t:30cm)

m³/8hr

4-16

6-23

12-45

30-75

30-80

30-85

50-110

120-300

150-350

300-600

300-720

300-750

350-950

380-1050

Hard rock

m³/8hr

8-20

12-30

24-60

60-100

60-105

60-110

90-200

200-420

220-450

400-800

400-900

450-930

500-1050

550-1150
The listed Hydraulic breaker productivity is based on 8-hour shifts. The above figures are for general estimation purposes only. The actual work results may depend on the quality and structure of the broken material, the material reduction size reduction, installation, carrier conditions, job site conditions, transportation, operator skills, etc.
Tell us the brand and model of your backhoe, We are very glad to help you to select the right hammer breaker(pecker).
Related Articles


Main Features of JIANGTU Hackhoe Breakers:
1. Cylinder & valves prevent scuffing with precision finishing treatment.
2. Piston: every piston tolerance is machined perfectly according to each cylinder.
3. Chisel: 42CrMo, exceptional performance and reliability;
4. Seal kit: original NOK.
How do JIANGTU Hydraulic breakers work?
JIANGTU Excavator rock breaker works on the principle of hydraulics. Such as a cylinder which is the most important part of the hydraulic system. It applies high pressure from its small canister which has pressurized hydraulic oil stored in it. They are much more powerful than other hand-held hammers.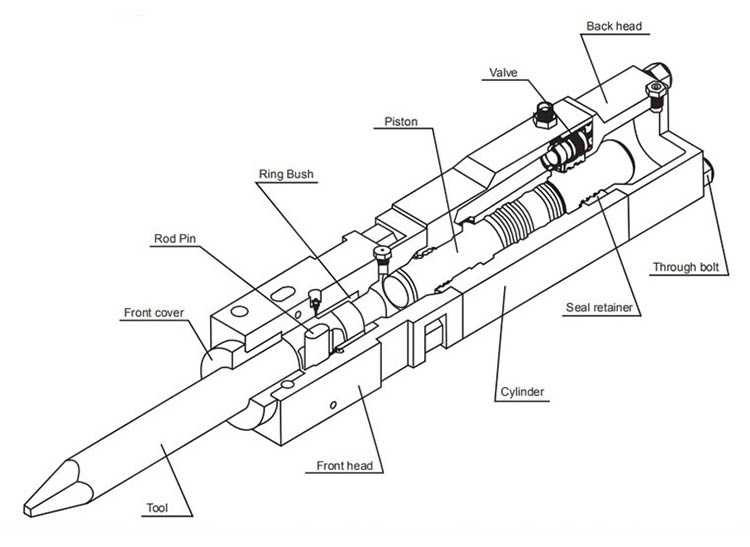 Main Features of JIANGTU hydraulic hammer for backhoe:
1. Cylinder & valves prevent scuffing with precision finishing treatment.
2. Piston: every piston tolerance is machined perfectly according to each cylinder.
3. Chisel: 42CrMo, exceptional performance and reliability;
4. Seal kit: original NOK.
♥ The Specifications of this equipment are subject to change for improvements.
Excellent performance with high durability. The company has been developed to meet the high standards of the current market. The demand for high durability and low maintenance costs on hydraulic equipment are combined in the total design of our attachments.
 Main Advantages:
 Korea made cylinder;
 Japan made NOK oil seal;
 Full-closed housing to protect the main body;
 Strong impact;
 Longer lifetime of usage;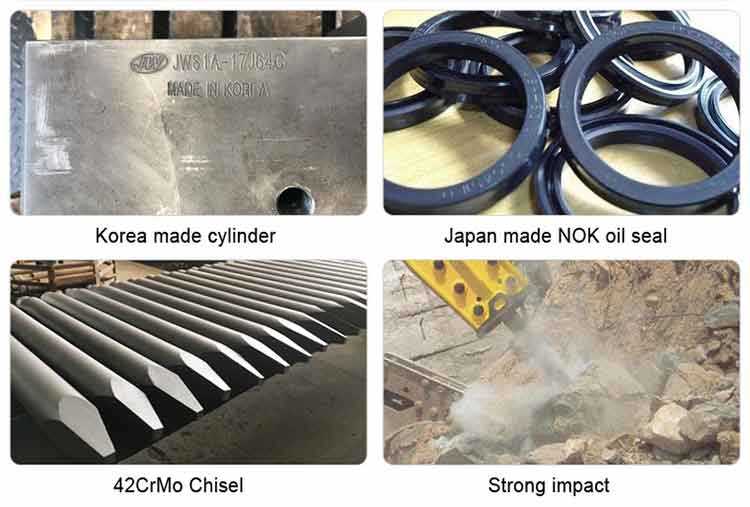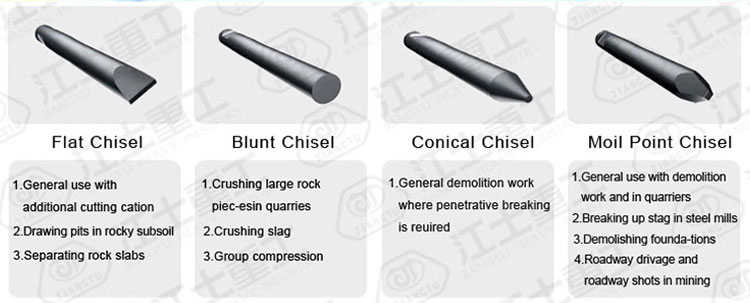 How to choose a high-quality hydraulic hammer for backhoe loader?
1. Check the company's qualifications and strengths making sure the quality is guaranteed.
2. Check the company's technical team to make sure the products are safe enough.
3. How is its after-sales service? few faults? easy to operate?
4. Ensure that it matches your excavator and attachments well.
Why choose us?
 As the leading hydraulic beakers manufacturer in China, we have 10 years' experience in Hydraulic breakers for backhoes developing and manufacturing.

 D department, with 6 professional engineers and more than 40 skilled workers.

 Strict QC system, ISO9001:2008, and CE certificate.

12 months warranty after receiving the product, 6 months free replacement.

The OEM/ customization service is available.
1. We can offer a comprehensive range of excavator attachments such as Hydraulic hammers, backhoe breakers, excavator rock breakers, quick hitch, log grapples, plate compactors, earth drill auger, orange peel grab, demolition grapple, grab bucket, ripper, etc…
2. You may rest assured that all of our products can be supplied in a wide range of designs, and the product can be customized according to your personalized requirements. Meanwhile, we can offer an excellent after-sale service.
3. We will keep your business information confidential.
4. We promise to reply to you upon receipt of your inquiry within 12 hours.
5. The order will be produced exactly according to your detailed requirements and bucket dimensions. Each attachment will be tested before delivery. Our QC will submit an inspection report before shipment.
OEM
Offer your design documents or tell us your ideas and our R&D team will do the rest.
Warranty
JIANGTU Excavator Attachments are guaranteed against failure due to defective design, materials, or workmanship for a period of one year or 2,000 hours. Within the first 6 months, we offer a free replacement service.

JIANGTU backhoe breaker/hammer, produced by the factory, price concessions, direct shipment from the manufacturer, minimum order of one piece, can be sent worldwide, click for a quotation
We are also sincerely looking for backhoe breakers dealers from all global markets. Competitive price, policy support. For more information, please contact us.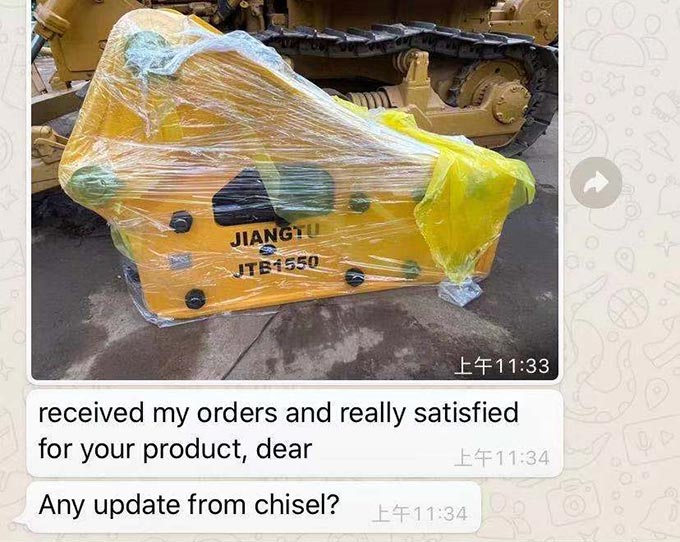 FAQS
Question:Which country have you been exported?
Reply:
Russia, USA, Canada, Japan, Korea, Malaysia, Hong Kong, Taiwan, India, Indonesia, Australia, New Zealand, Israel, South Africa etc.
Question:How about the Shipment?
Reply:
Shipment can be made by sea, air or land. Sea loading ports include Qingdao, Yantai and Shanghai etc. Sales manager will select an optimal shipping method for you. For more information, please contact with customer service staff.
Question:How about the package?
Reply:
Our attachments are packaged by standard export wooden cases free from fumigation.
Question:How about delivery time?
Reply:
Usually 15 days subject to order quantity. Due to the surge in orders, please check with customer service staff for lead time.
Question:What's the MOQ and payment terms?
Reply:
MOQ is 1 set. Payment by T/T, L/C, Credit Card, and Western Union is acceptable. Other payment method can be negotiated.
Question:Can I customize a product?
Reply:
Sure, we can provide OEM and ODM service.
Question:Are you sure your product will fit my excavator?
Reply:
Yes, we are professional attachments manufacturer, We make attachments according to your excavator bucket dimensions.
Question:Are you a manufacturer?
Reply:
Yes, our factory was established in 2011.
Ready To Know More?
Find out which attachment works best for you and get a quote!