Hydraulic Rotating Pulverizer is widely used in demolition of factory buildings, beams and columns, civil houses and other buildings, steel bar recovery, concrete crushing, etc., due to its features of no vibration, low dust, low noise, high efficiency, and low crushing cost.
Its working efficiency is two to three times that of a hydraulic breaker.
Specification
Videos & Images
Features
Certificate
Services&Warranty
Review
At present, Jiangtu first-generation hydraulic pulverizer is designed as fixed head, which features large crushing force, fast speed and high efficiency, and are more suitable for secondary demolition.
In order to meet the demand of the first demolition, Jiangtu R & D team added 360-degree rotation function on the pulverizer to improve the maneuverability and precision of accurate operation, and is suitable for the first demolition of floors with different angles and directions.
In addition, considering that the teeth on the pulverizer are a quick-wear part, the R & D team designed replaceable teeth for the convenience of replacement, which can be replaced individually or all, so as to reduce the customer's maintenance cost.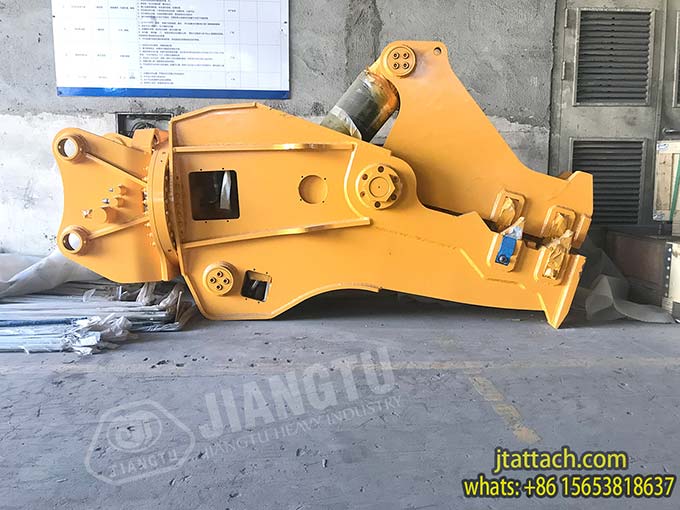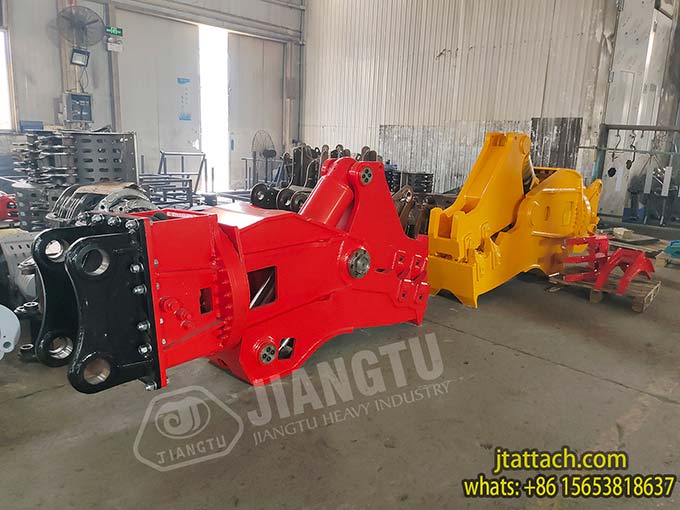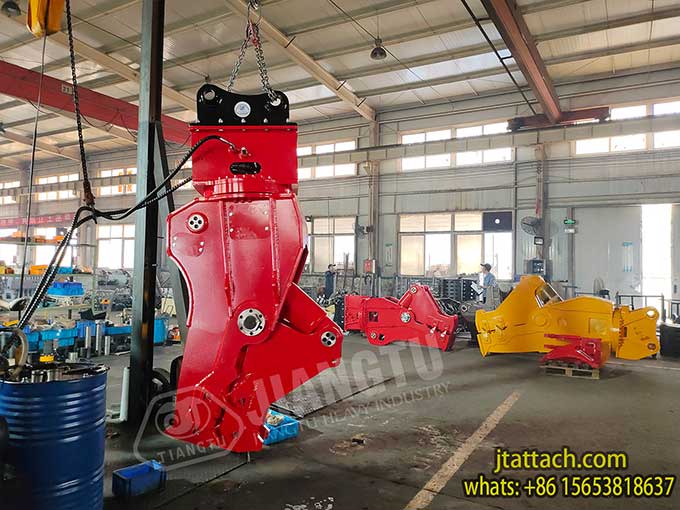 JIANGTU Hydraulic Rotating Pulverizer, produced by the factory, price concessions, direct shipment from the manufacturer, minimum order of one piece, can be sent worldwide, click for a quotation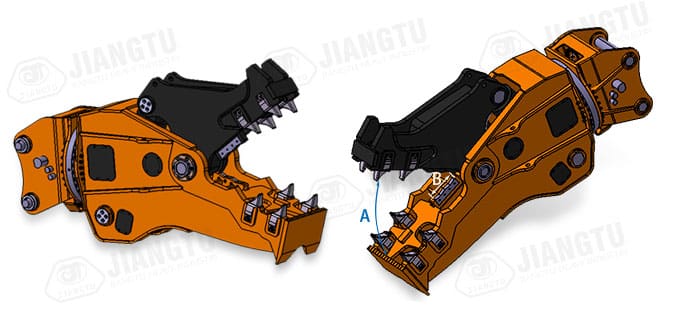 JIANGTU 360°Rotating hydraulic pulverizer for excavators
Unit
JT-06
JT-08
JT-08S
JT-10
重量Weight 
kg
1450
2000
2700
3300
A开口 Max Open
mm
700
780
880
930
中间剪切力 Cutting force
ton
185
220
300
330
前端破碎力 Crushing force 
ton
60
70
100
120
工作压力Working Pressure
bar
350
350
350
350
B刀片长度Cutter Length
mm
180
220
260
260
旋转最大流量Max.Flow when rotation
L/min
28
28
28
28
打开/关闭Open/Close
S
1.5/3
2/3
2/3
2.5/3.5
适用挖机Carrier
Ton
10-15T
18-22T
23-28T
30-36T
Related Articles

Features of Jiangtu 360°Hydraulic Rotating Pulverizer
●Improve the maneuverability and accuracy of operation
The 360° slewing support rotation system is added, so that the machine can rotate by 360 ​​degrees freely, improving the maneuverability and accuracy of operation.
●Customized teeth and blades for easy maintenance and low maintenance cost
Replaceable tooth can be replaced one or all according to the need.
The replacement is simple, which makes it convenient for customers to replace the damaged teeth, saving time and effort.
●More suitable for working at heights
The 360°Hydraulic Rotating Pulverizer are more suitable for the initial demolition of the building because of the maneuverability and accuracy of its operating angle.
●Low noise operation
Reduce noise and vibration while breaking concrete and cutting rebar.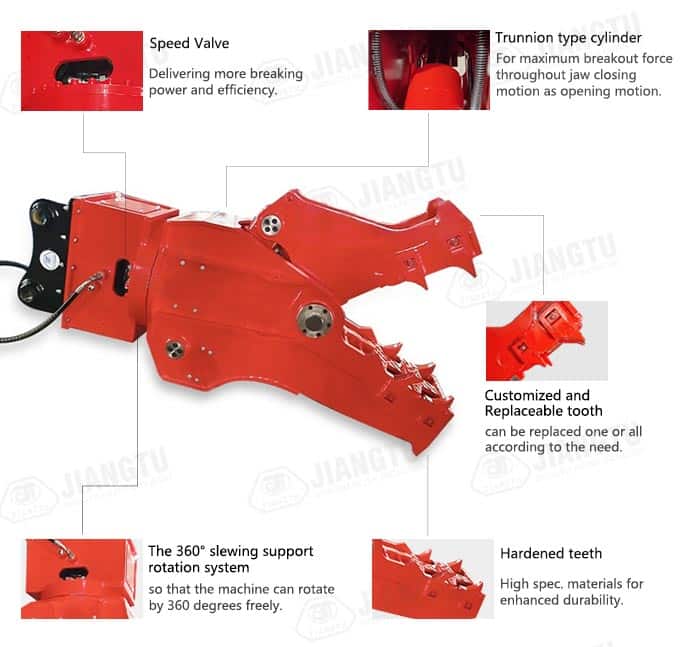 Meanwhile, Jiangtu hydraulic Rotating Pulverizer still retain the characteristics and advantages of ordinary hydraulic pulverizer.
●One machine owns multiple functions, with integrated functions of crushing concrete and cutting steel bars, with large crushing force and fast speed;
Equipped with German M+S motor, the power is stronger and more stable.
●Finishing, using high-strength wear-resistant plates,more durable;
The material is made of ThyssenKrupp XAR wear-resistant plate, and the shear blades are made of imported materials from Germany, which are highly resistant to building wear and durable.
●Easier demolition and longer service life;
The large-diameter, powerful imported oil cylinder can provide maximum crushing force and is easy to maintain, making demolition easier and having a long service life.
●High work efficiency
Equipped with acceleration valve, it can provide fast jaw opening and closing , quickly separate reinforced concrete and collect steel bars, and improve work efficiency.
●After-sale guarantee
"one-year warranty, 6-month replacement" after-sales policy is offered, Please rest assured to buy.
Our Service

1. We can offer a comprehensive range of  Hydraulic Pulverizer,  excavator shear, Hydraulic scrap shear, Hydraulic Crusher,  hydraulic concrete pulverizer, hydraulic pulverizer excavator, hydraulic rotary pulverizer, rotating hydraulic pulverizer,  Hydraulic Pulverizer attachments.


2. Of course, You may rest assured that all of our products can be supplied in a wide range of designs, and the product can be customized according to your personalized requirements to meet your requirements. Meanwhile, we can offer an excellent after-sale service.

3. Your business relationship with us will be confidential to any third party.

4. We promise to reply to you upon receipt of your inquiry within 12 hours.

5. The order will be produced exactly according to order details and proofed samples, our QC will submit an inspection report before shipment.

OEM

1. Offer your design documents or let our design team work out some concepts for choosing.
2. We will always provide you with a virtual pre-production proof that shows the exact placement of your logo on the product.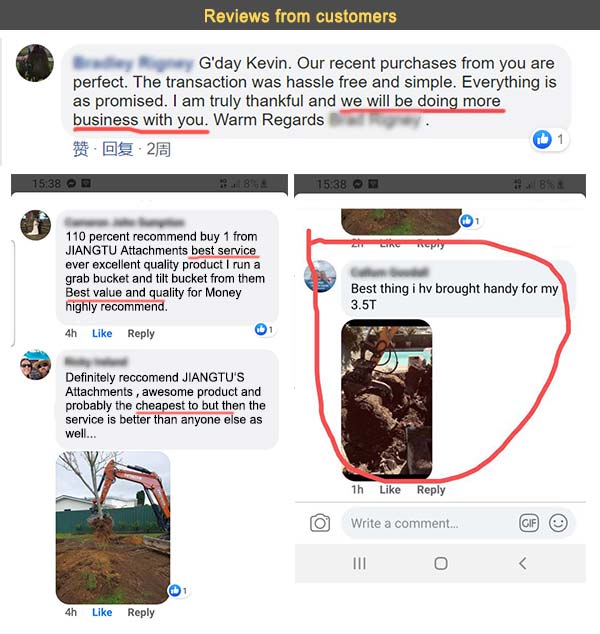 Ready To Know More?
Find out which attachment works best for you and get a quote!