Hydraulic Earth auger is a kind of digging machine. It is used for tree planting, pole holes, drilling, and so on. It can be mounted on all common hydraulic excavators, skid steer loader, backhoe loader, crane, and other machines.
Jiangtu excavator earth auger, composed of three parts, auger drive, auger drill, and the bracket.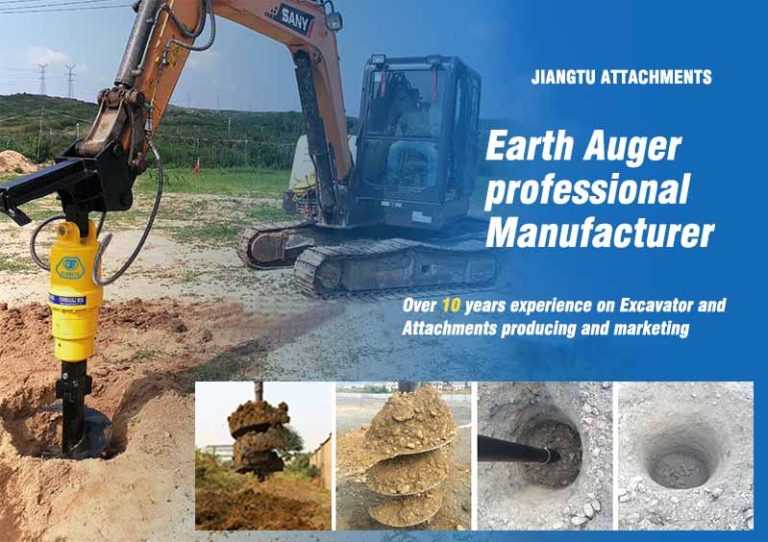 Before choosing a proper model auger drill for your machine, you need to provide the following four factors:
1.Model of your excavator/skid steer/backhoe/tractor/crane. The model of the auger drive is mainly confirmed according to the model of the machine that will use the earth auger.
2. Diameter of hole to be drilled. We will choose the corresponding diameter of the auger drill.
3. Depth of hole to be drilled. We will choose the corresponding length of the auger drill.
4. Your working ground condition. Different ground types, the drill teeth are different. The earth is hard or soft, or middle hard? Is there small rock or stone in the earth or not?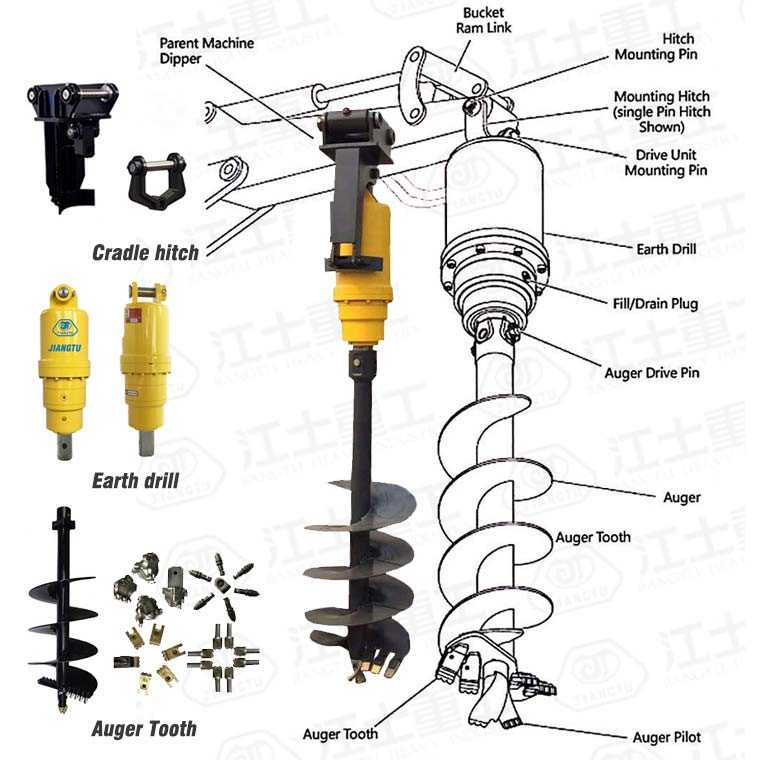 For the drills, they are suitable for excavators, skid steer loaders, backhoes, and truck cranes. Jiangtu post hole auger for excavator can drill widths of 100mm on smaller machines and up to 2.4m on larger machines and can drill to depths of 12m (with extensions and using the correct earth drill). Our in-house manufacturing capabilities mean we can design and fabricate to your specification, to suit your machine and job. So, whether its post holes, holes for fencing, signposts, post frame buildings, foundation footings, light and utility poles, our augers will make light work of it and ensure that every job you tackle is a resounding success.
There are three types of the hitch for your options. Tell us the model of your excavator or other machine and we will check the dimensions for you. Or, as long as you can provide correct dimensions of connection part, for example, the pin diameter, width between the ears, and the distance of the two-pin centers of your excavator, we will make the hitch accordingly and we are sure the earth auger will fit your excavator well.
SERVICE
10 YEARS OF INNOVATION
With nearly 10 years sales and service experience, We continually invents and develops our products to provide our customers with the optimal performing products.
MARKET NETWORK
We mainly sold our products to China, Russia, USA, Canada, Japan, Korea, Malaysia, Hong Kong, Taiwan, India, Indonesia, Australia, New Zealand, Israel, South Africa etc.
REQUEST QUOTE
Submitan inquiry to get a quote