What is a multifunctional grapple? Just as its name implies, one grapple can perform multiple functions. When using JIANGTU grapple, how can we help customers to grasp not only wood but also steel? Grasp not only straw bales but also crossties? Grasp not only slate but also dig tree roots? Buy a wood grapple, a stone grapple, and another grass grapple. It's too wasteful. It would be great if we can help customers purchase a set of grapples that can meet the needs of so many working conditions.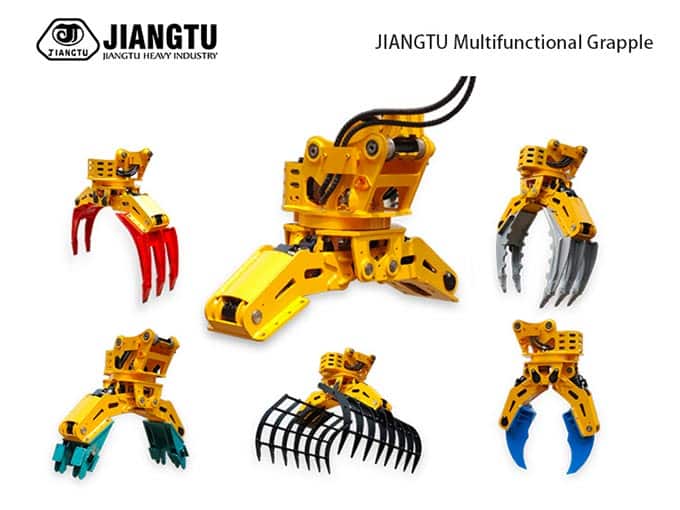 In order to meet the needs of customers, Jiangtu R&D team has gone through eight months of researching, surveying, drawing, manufacturing and testing, and finally released this multifunctional grapple to the market for everyone to see.
This multifunctional grapple consists of a main body with five interchangeable claws. According to the working conditions, the multifunctional grapple can be used as the following five types:
1、Wood/log grapple for excavator
It mainly grasps wood, single or bundled round wood, utility poles, steel pipes, bulk steel, stones, etc…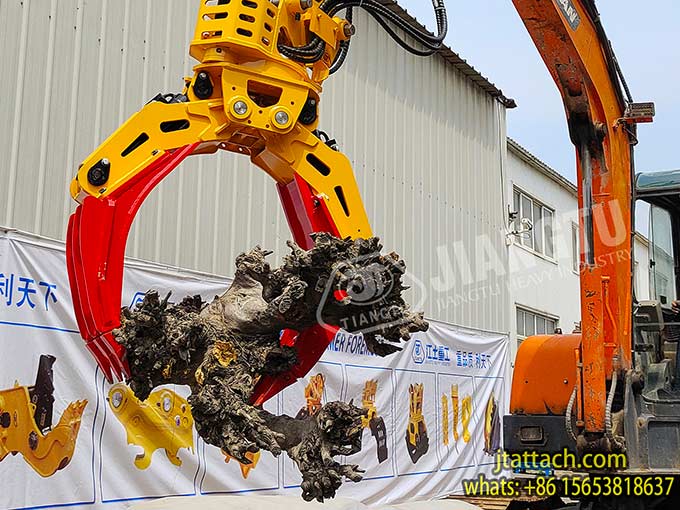 2、Grass/Brush Grapple for excavator
It mainly grasps straw bales, sugarcane bales, bamboo bales, dry wood bales, etc…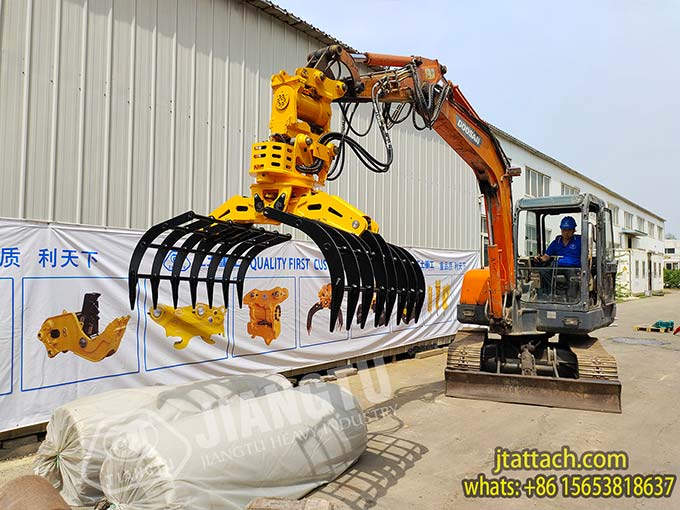 3、Stone/Rock/Steel Grapple for excavator
It mainly grasps round or square stones, utility poles, wastes, steel, etc…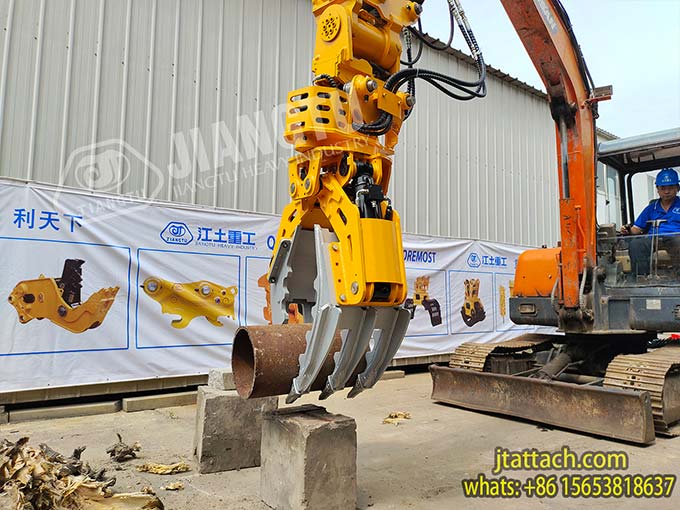 4、Square Material Grapple for excavator
It mainly grasps crosstie, pillow stones, strip stone, masonry and other materials for municipal construction and road construction.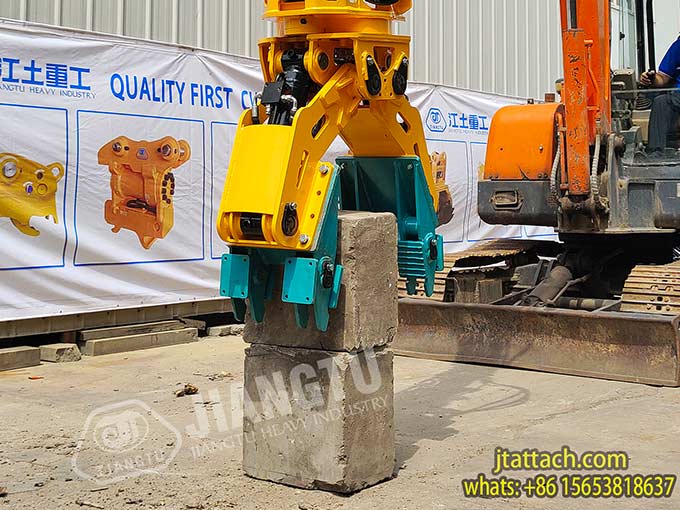 5、Tree Stump Breaker for excavator
Mainly used for tree stump, tree root excavation and splitting, realizing drilling, cutting, digging, hooking and other functions.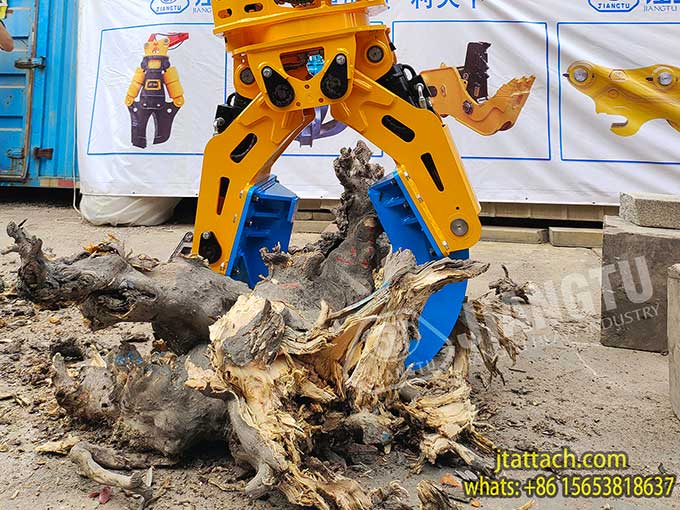 The swing angle of the left and right arms of the grapple body is 76°;
The connecting rod structure helps it achieve left and right synchronization;
The combination of locating pins, bolts, thread holes and nuts can firmly connect and fix the claws;
When clamping, the torque of the cylinder is the largest, which meets the clamping force;
360° rotation to meet the grabbing of different working conditions.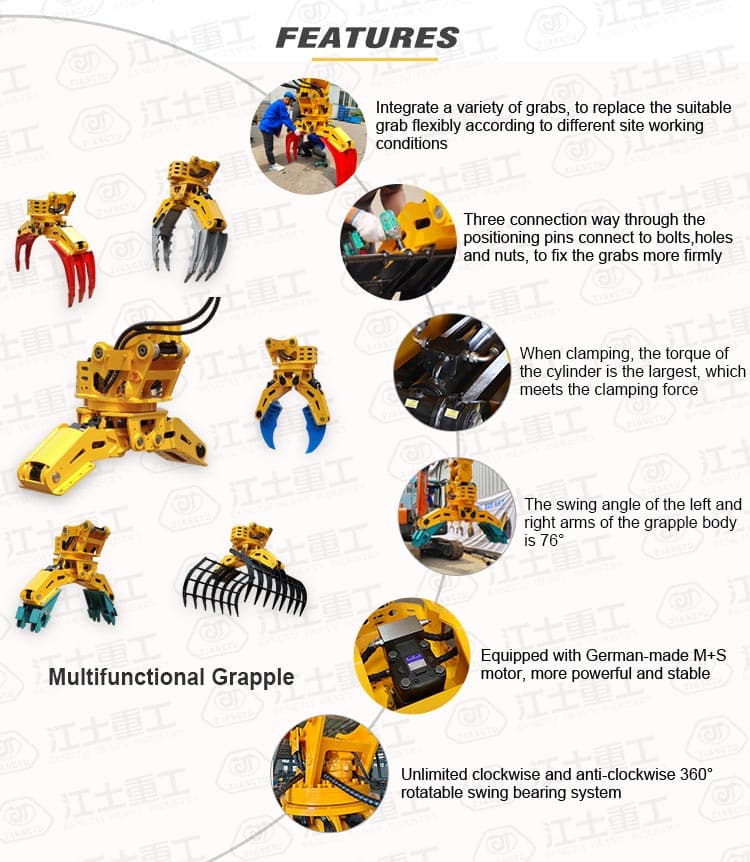 This new multipurpose grapple from Jiangtu truly realizes one machine with multiple functions: one machine integrates a variety of claws, which can be flexibly selected according to different working conditions and replaced at will. It greatly reduces the cost of use, especially suitable for customers with complex working conditions. At the same time, the method of replacing the claws with electric drill screws makes the replacement process simple and easy.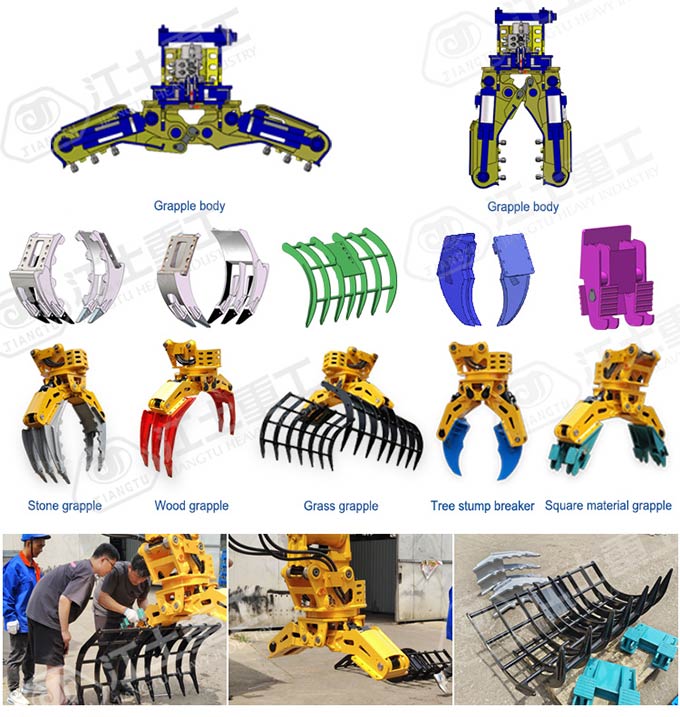 In addition to the above outstanding features, Jiangtu multifunctional grapple also has the general characteristics:
1. The Jiangtu grapples are made of high-quality materials, excellent workmanship, precise processing, and superb welding technology. The Jiangtu grapples are made of hardened and wear-resistant plates, which are purchased from domestic high-quality plate manufacturers and can withstand different working conditions.
The claws are made of high-quality low-carbon steel and wear-resistant materials, which can prolong the service life; each claw contains an integrally formed T-shaped bushing, which is more reliable in performance compared to other factories' products.
All pins are made of high-quality alloy steel, heat-treated, with high surface hardness, wear resistance, and bending resistance; all pins have better surface finish and tighter fit clearance after grinding treatment.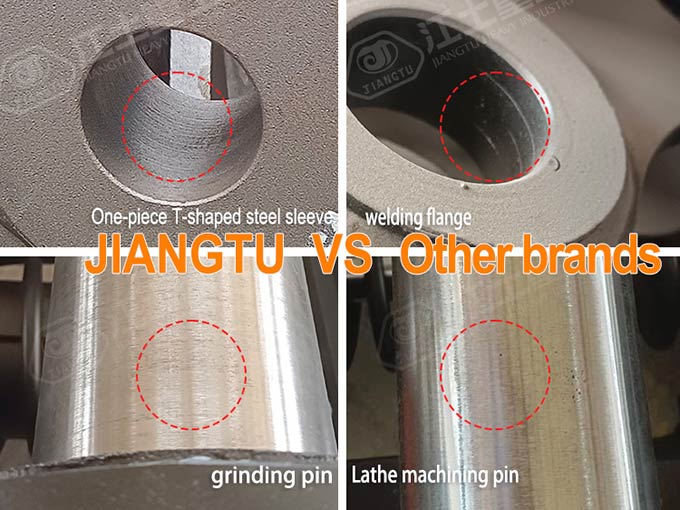 2. The cylinder is equipped with a USA SUN brand balance valve to make the cylinder move smoothly and prevent the grapple from opening due to the oil pipe bursting; it is equipped with the M+S motor imported from Bulgaria/the Parker motor imported from the United States. The motor is equipped with a brake block with USA SUN brand double balance valves and double relief valves to reduce the impact during rotation and start or stop, and open smoothly.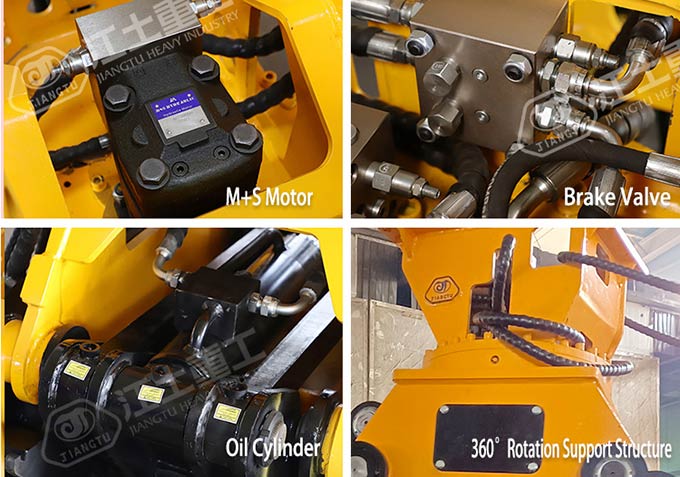 3. Optimized design of the structure, meets the requirements of lightweight and high grabbing efficiency; the buffer design of the cylinder, silent operation, reduces the impact of extreme positions; the design of the special-shaped streamlined safety guard of the cylinder is added to facilitate the smooth insertion of the claws into different material piles while protecting the cylinder, balance valve and oil pipe from damage during working; the limit block protects the cylinder from impact and prolongs the service life.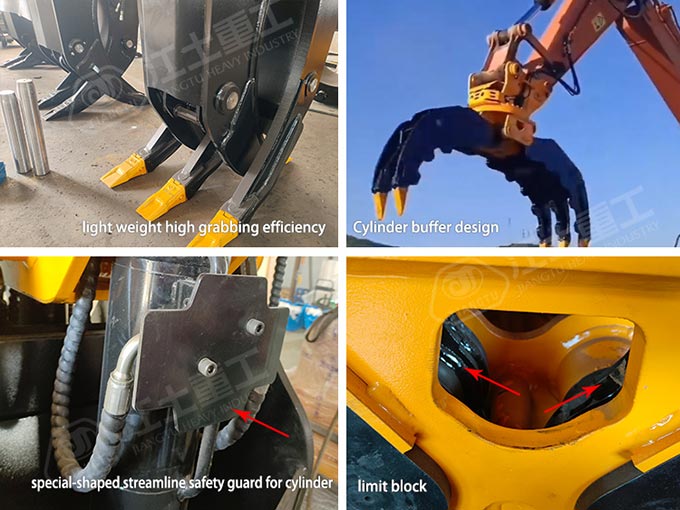 4. The imported EATON handle is used, which enhances the reliability of the operating system, prolongs the service life, and makes operations more comfortable.
5. Fittings and pipelines meet the industry's top standards, 4 times the impact resistance coefficient, high safety, and reliability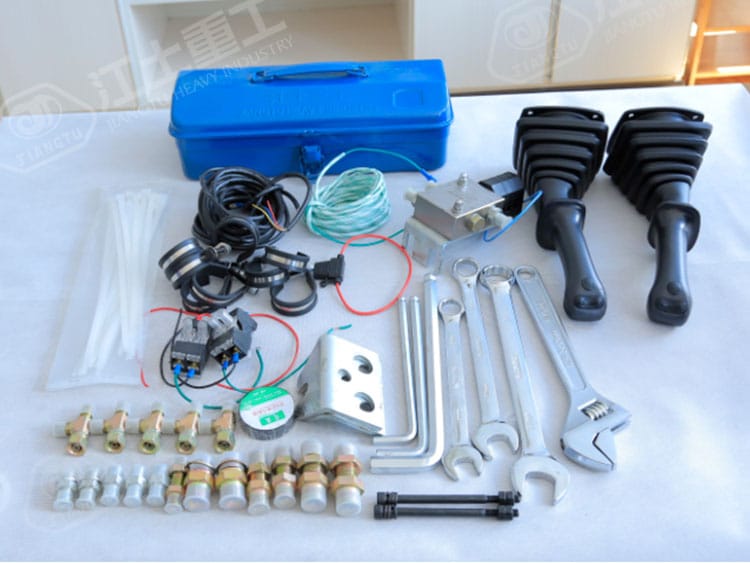 The successful launch of Jiangtu's new Multi-Functional Grab means that a new product will appear in the market. The dream of "one machine with multiple uses" is no longer empty talk. At the same time, it marks that Jiangtu grapple has entered a new development stage. Under Jiangtu's service commitment of "one-year warranty and six-month replacement ", welcome to place an order to try.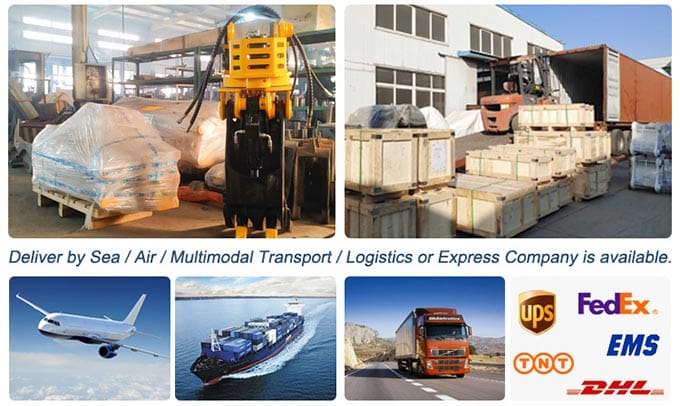 SERVICE
10 YEARS OF INNOVATION
With nearly 10 years sales and service experience, We continually invents and develops our products to provide our customers with the optimal performing products.
MARKET NETWORK
We mainly sold our products to China, Russia, USA, Canada, Japan, Korea, Malaysia, Hong Kong, Taiwan, India, Indonesia, Australia, New Zealand, Israel, South Africa etc.
REQUEST QUOTE
Submitan inquiry to get a quote