Applications
Fully automatic Hydraulic double-locking excavator quick coupler can help the excavator to realize fully automatic and quickly changeable of various attachments such as buckets and breakers in the cab.
Inspired by German quick hitch coupler, Jiangtu engineers have developed this product with national utility model patents, appearance patents and European CE certification through continuous research and development, improvement and market verification. It is currently sold well in European and American countries.
Specification
Videos & Images
Features
Certificate
Services&Warranty
Review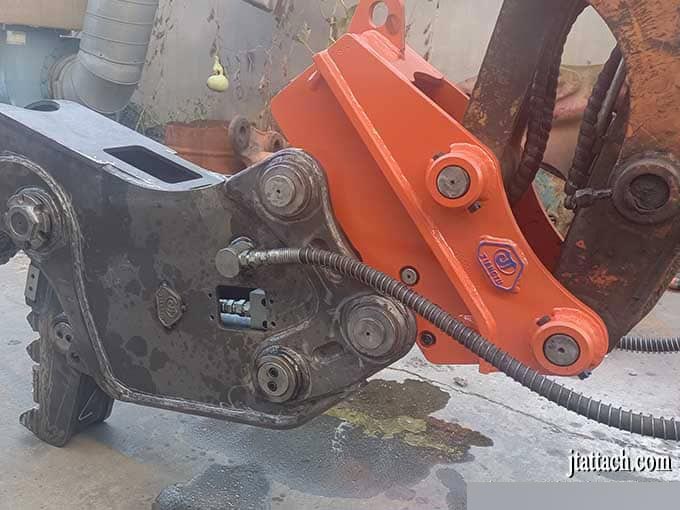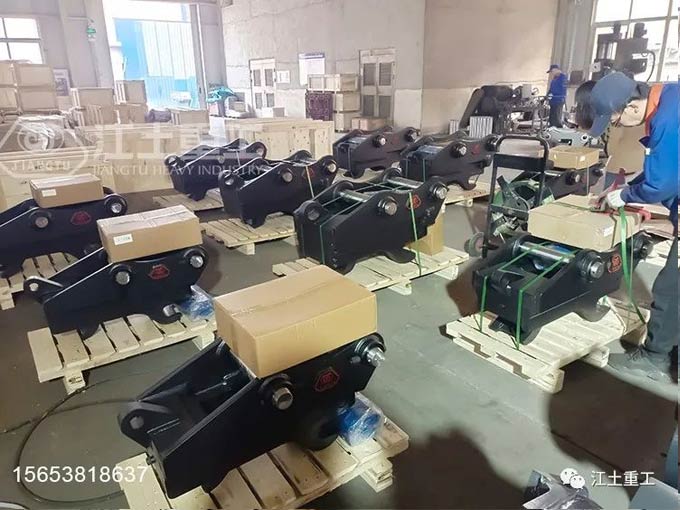 Description of JIANGTU Fully Automatic Double-locking Excavator Quick Coupler
The Fully Automatic double-locking Excavator Quick Coupler can help the excavator to realize fully automatic and quickly changeable of various attachments such as buckets and breakers in the cab.
Safety issues
The most prominent advantage of Jiangtu fully automatic double locking hydraulic quick hitch coupler is safe.It cancels the hand-inserted safety pin on the basis of the safety of ordinary hydraulic quick hitch coupler. The safety spring and safety hook together form a double safety guarantee against failure.
1. The linkage safety block is installed at the rear hook of the hitch coupler (as attached photo). If the front hook or the piston rod of the cylinder breaks, the safety hook can lock the top pins of the bucket to prevent the bucket and other accessories from falling and causing danger.
2. The safety spring is another important guarantee. When there is a problem such as internal leakage of the oil cylinder, if there is no safety spring, the oil cylinder will retract and drive the safety hook to retract, the hitch coupler and the attachment will be easily separated, and the safety spring will stop the retraction of the oil cylinder and the safety hook to achieve the purpose of protection.
3. In addition, a safety valve is built into the cylinder, to prevent the cylinder from shrinking, forming multiple safety guarantees.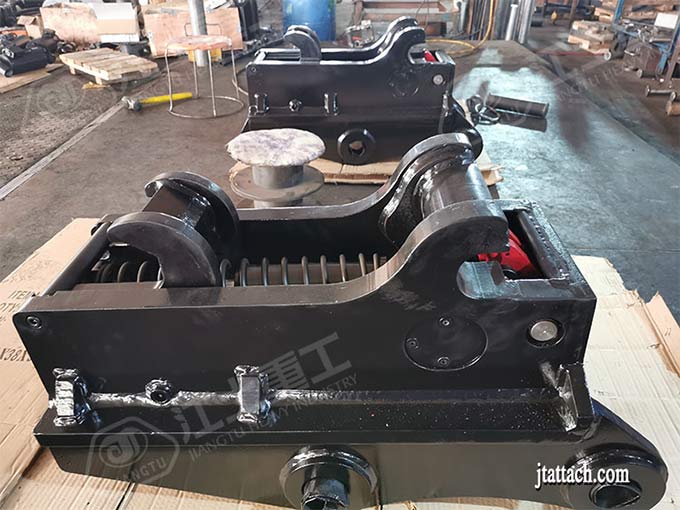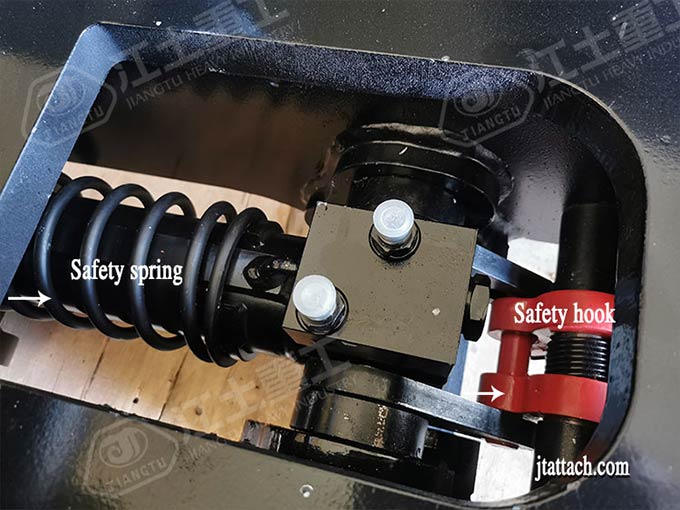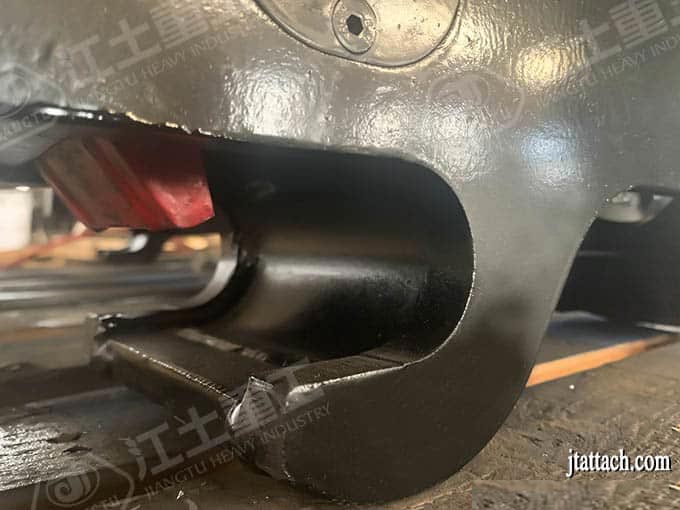 Jiangtu's after-sales service solemnly promises: six-month replacement and one-year warranty; this after-sales guarantee is beyond the reach of other quick hitch coupler brands in the Chinese market.
Please check the following specifications to choose the right Quick Hitch Coupler model.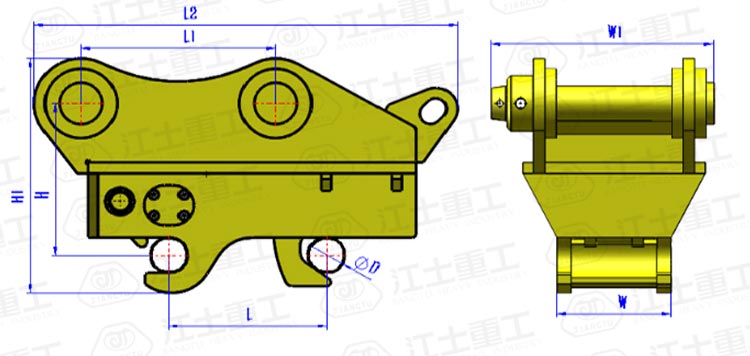 Fully Automatic Double-locking hydraulic excavator quick hitch coupler

 Category/Model 
 Unit
JT-00
JT-01
JT-02A
JT-02B
JT-04
JT-06
JT-08
JT-10
JT-14
JT-17
 Length L2
mm
440
527
550
580
590
750
950
1050
1100
1150
 Width W
mm
158
270
145-175
145-175
160-230
220-270
300-340
550-600
602-666
610-760
 Height H1
mm
270
325
310
310
340
460
510
600
620
630
 L1 Pins center distance
mm
90-125
180-230
230-280
260-310
260-320
350-430
430-510
490-560
550-600
570-620
 Pin diameter D
mm
25/30
35/40
45
45
50/55
60/65
70/80
100
100/110
100/110
 H Vertical pins center distance
mm
194
227
200
200
219
308
336
370
380-390
380-390
 Working pressure
bar
25-300
25-300
25-300
25-300
25-300
25-300
25-300
25-300
25-300
25-300
 Necessary flow
Lpm
15-25
15-25
15-25
15-25
15-25
15-25
15-25
15-25
15-25
15-25
 Weight 
kg
34
45
65
65
78
200
316
620
600-720
600-720
 Excavator
ton
0.8-2
2-4
4-6
4-6
6 -9
10-16
18-25
26-30
30-40
40-52
JIANGTU Fully Automatic Double-locking Hydraulic Quick Coupler for

Common Excavator Models and Brands

Model
Carrier tons
Catterpillar
Volvo
JCB
Kubota
Bobcat
John Deere
Komatsu
Yanmar
JT-00
0.8-2
CAT301.7
ECR18 Electric/ECR18E
JCB 8061
U-15-3S/U17
E10/E17z
17G/26G 
SH120-3/PC18MR-3
SV08/ViO17
JT-01
2-4
CAT302 CR/CAT303 CR
ECR25 Electric/ECR25D
 
U20-5/U30-5
E32/E35
35G/30G
 
ViO27-6/ViO38-6B
JT-02
4-6
CAT306.5
EC60D /EC55 Electric
 
KX163-5/KX155
E45/E50
50G
PC56-7/PC58-8
ViO20-3/ViO60-6B
JT-04
6-9
CAT307.5
EC75D 
JCB JS85/JCB 8061
KX175-5/KX185
E63/E85
60G/75G
PC60-8/ PC70-8
ViO85/ViO75-A
JT-06
10-16
CAT316 GC
EC130
JCB JS130LC
 
 
135G
PC130-7/PC110-7 
 
JT-08
18-25
CAT323 GX/CAT323
EC220DL/EC220D
JCB JS240LC/JCB JS230LC
 
 
160G LC
PC220-8/HB215LC-1
B7Σ-5A
JT-10
26-30
CAT330 GC
EC250
 
 
 
250G LC
PC270-8 
 
JT-14
30-40
CAT340/CAT336
EC350D/EC380
JCB JS290LC/JCB JS370LC 
 
 
300G LC/345G LC
PC300-8M1/PC360-7
 
JT-17
40-52
CAT 350/CAT352
EC500/EC500 HAMMER
 
 
 
470G LC
PC460LC-8/PC500LC-10M0
 
Tell us the brand and model of your excavator, We are very glad to help you to select the right Quick hitch Coupler.
Related Articles

Features and Advantages of JIANGTU Automatic Double-locking Excavator quick coupler :
1. Driven by a hydraulic system, the operator can easily switch attachments by turning on the switch in the cab.
2. Fit to 0.8-52 ton machine; Q345B material with advanced mechanical design; Long service life.
3. The safety spring and safety hook together form a double safety guarantee against failure, preventing the bucket and other accessories from falling and causing danger.
4. Six-month replacement and one-year warranty;
5. USA-made solenoid valve; Original Germany-made oil seals and joints; Original Japan-made switch;
6. The design structure of JIANGTU fully automatic double locking excavator quick coupler makes the force point on the lower plate, compared with the force point of the ordinary quick hitch coupler on the cylinder piston rod, which can reduce the loss of the oil cylinder, prolong the life of the oil cylinder, and thus prolong the life of the oil cylinder.
7. Compared with European and American products, our fully automatic double-locking hydraulic quick hitch coupler has a rear hook which is made of round steel, which is stronger, more durable, and break-resistant. Meanwhile, the hook has added guide plates, hanging buckets, and other accessories more convenient;
8. The body length of the new optimized fully automatic double-locking hydraulic excavator quick hitch is much shorter than the old one, which increases the convenience of construction in narrow spaces.
9. Under the high-precision process of assembly, welding, and boring, take the dipper 250-260mm of JT-06 quick hitch coupler as an example, and widen the front movable hook to 245-255mm, which is 5mm less than the dipper size. By analogy, a gap of 2.5 mm on one side is achieved when hanging the hammer or bucket to prevent the gap from being too large to wear too quickly, and to prevent the hammer loop from falling out.
10. Unique solenoid valve and small iron pipe base: The solenoid valves have no any failure for all sold hydraulic quick couplers; the casting base of iron pipe is beautiful and sturdy, and other manufacturers are screwed on and easy to fall off.
11. Pipeline kits and other accessories are the best. Full set spare parts ready for installation: pins, pipes, solenoid valve, switch, wire harness, manual, kit, bolts, nuts, etc.

The quality of Jiangtu products is well-known in the industry. The longest service life of a hydraulic quick coupler is about 9 years according to customer feedback. Considering the service life and after-sales cost, our hydraulic quick couplers' cost performance is still higher!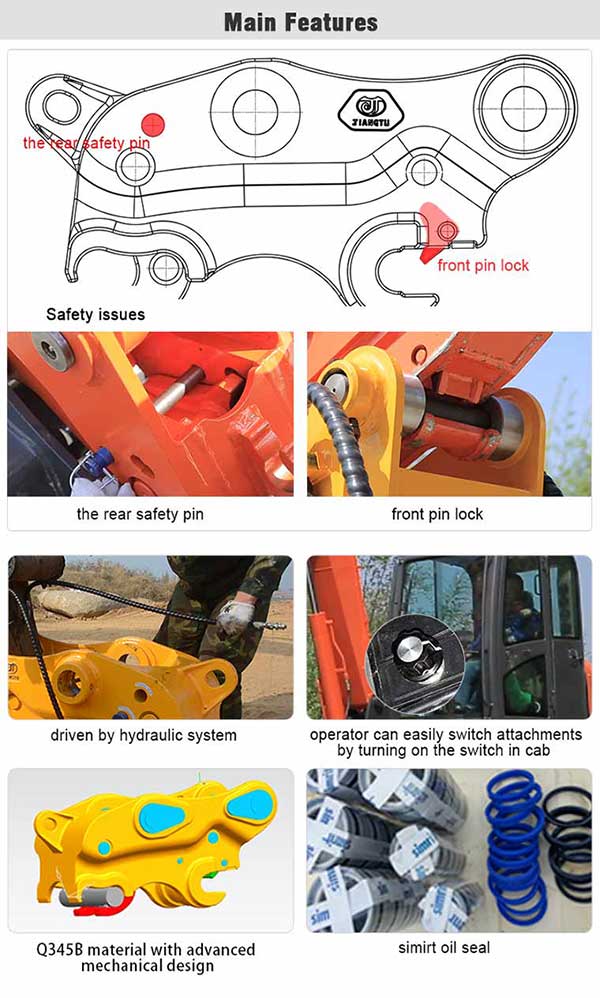 Contact me now for more details and the latest Price list
♥ The Specifications of this equipment are subject to change for improvements.
Excellent performance with high durability. The company has been developed to meet with the high standards of the current market.The demand for high durability and low maintenance costs on hydraulic equipment are combined in the total design of our attachments.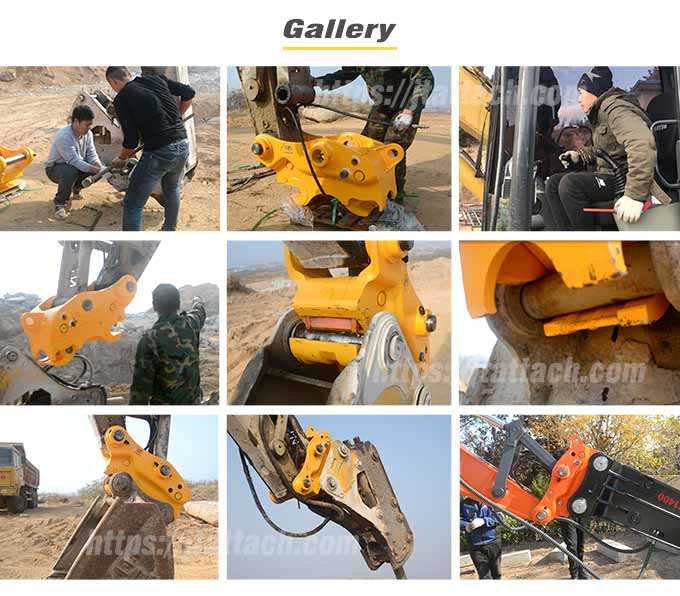 Why should you need a quick hitch coupler?
1. Mainly used in the need to frequently replace the front end of the excavator working device in the work plan.
2. Ten seconds to complete the switch.
3. Time-saving, labor-saving, simple and convenient.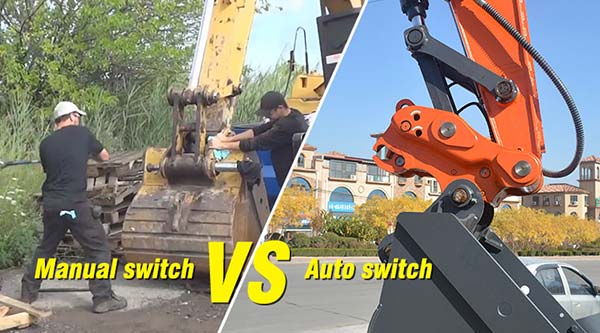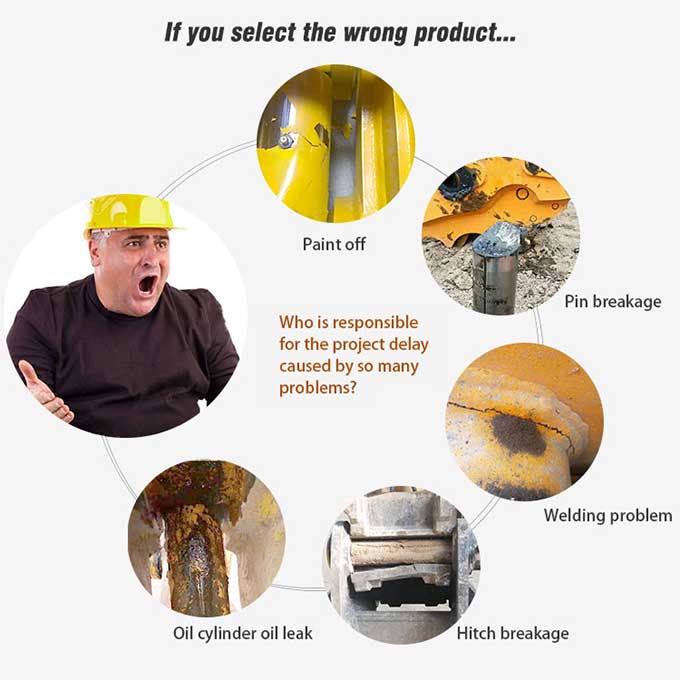 Why choose us ?
1. As the leading excavator bucket quick coupler manufacturer in China, we have 10 years of experience in developing and manufacturing excavator bucket quick couplers.
2. Strong R&D department with 8 professional engineers and more than 60 skilled workers.
3. Strict QC system, ISO9001:2015, and CE certificate.
4. 12 months warranty after receiving the product.
5. The OEM/ODM and customization service is available.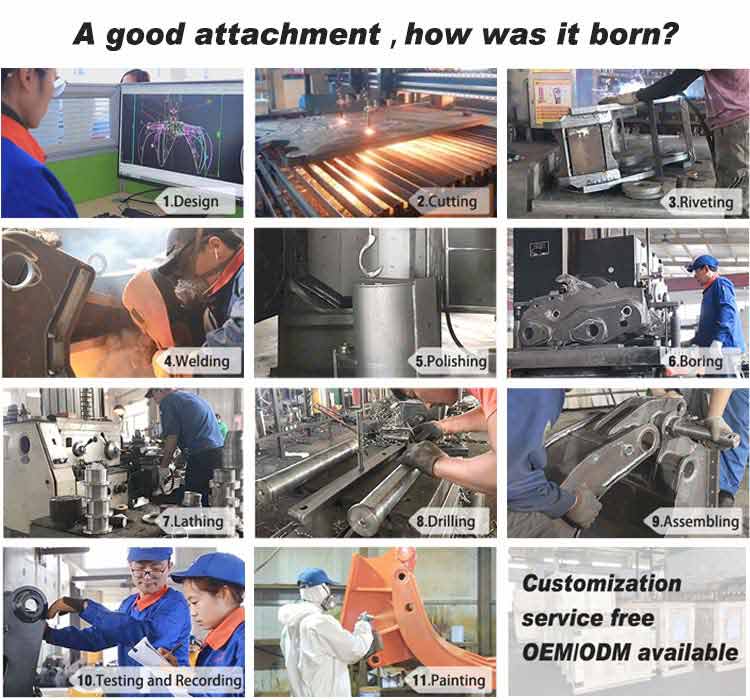 JIANGTU Excavator bucket quick couplers, produced by the factory, price concessions, direct shipment from the manufacturer, minimum order of one piece, can be sent worldwide, click for a quotation
Our Services of JIANGTU Excavator quick hitch
1. We can offer a comprehensive range of excavator quick hitches such as hydraulic quick hitch, tilt hitch, Mechanical quick hitch coupler for excavator, Double Locking excavator bucket quick coupler, etc…
2. You may rest assured that all of our products can be supplied in a wide range of designs, and the product can be customized according to your personalized requirements. Meanwhile, we can offer an excellent after-sale service.
3. We will keep your business information confidential.
4. We promise to reply to you upon receipt of your inquiry within 12 hours.
5. The order will be produced exactly according to your detailed requirements and bucket dimensions. Each attachment will be tested before delivery. Our QC will submit the inspection report before shipment.
OEM
Offer your design documents or tell us your ideas and our R&D team will do the rest.
Warranty of JIANGTU Excavator Quick couplers
JIANGTU Excavator quick couplers are guaranteed against failure due to defective design, materials, or workmanship for a period of one year or 2,000 hours. Within the first 6 months, we offer a free replacement service.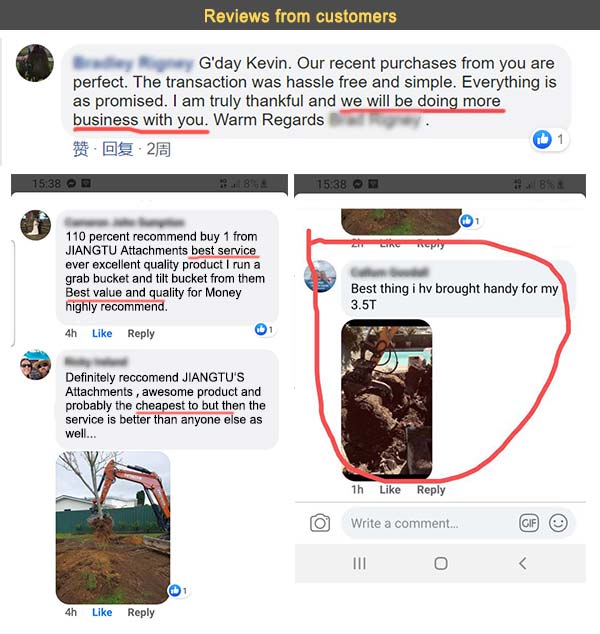 FAQS
Question:Which country have you been exported?
Reply:
Russia, USA, Canada, Japan, Korea, Malaysia, Hong Kong, Taiwan, India, Indonesia, Australia, New Zealand, Israel, South Africa etc.
Question:How about the Shipment?
Reply:
Shipment can be made by sea, air or land. Sea loading ports include Qingdao, Yantai and Shanghai etc. Sales manager will select an optimal shipping method for you. For more information, please contact with customer service staff.
Question:How about the package?
Reply:
Our attachments are packaged by standard export wooden cases free from fumigation.
Question:How about delivery time?
Reply:
Usually 15 days subject to order quantity. Due to the surge in orders, please check with customer service staff for lead time.
Question:What's the MOQ and payment terms?
Reply:
MOQ is 1 set. Payment by T/T, L/C, Credit Card, and Western Union is acceptable. Other payment method can be negotiated.
Question:Can I customize a product?
Reply:
Sure, we can provide OEM and ODM service.
Question:Are you sure your product will fit my excavator?
Reply:
Yes, we are professional attachments manufacturer, We make attachments according to your excavator bucket dimensions.
Question:Are you a manufacturer?
Reply:
Yes, our factory was established in 2011.
Ready To Know More?
Find out which attachment works best for you and get a quote!