Applications: 
for all models of excavators.
Mechanical quick hitch coupler for excavator is a kind of connector to connect the excavator and different kinds of attachments. High efficiency and convenience. Save your time and earn more monery.
Advantages: 
Working like bolt and nut, Jiangtu mechanical quick coupler switches attachments manually.
Specification
Videos & Images
Features
Certificate
Services&Warranty
Review
MORE DETAILS
As one of the leading Excavator quick coupler manufacturers in China, JIANGTU has a full range of quick hitch couplers for excavator from 1.5-90 ton.They are suitable for all kinds of brands and models of excavators.
Mechanical Quick Hitch Coupler,working like bolt and nut, Jiangtu mechanical quick coupler switches attachments manually.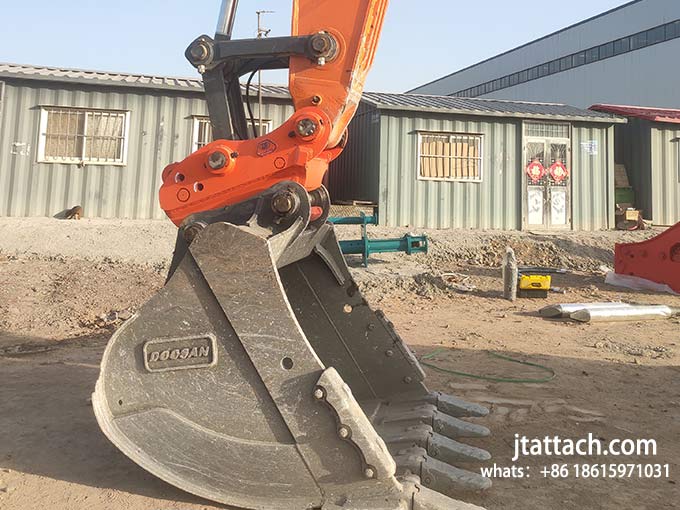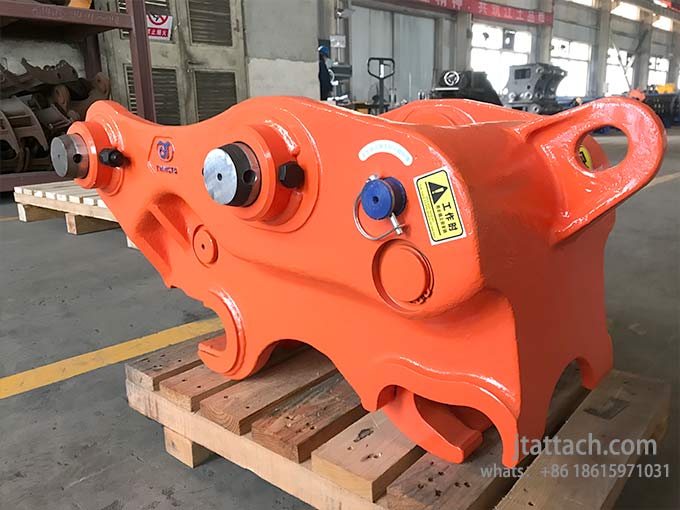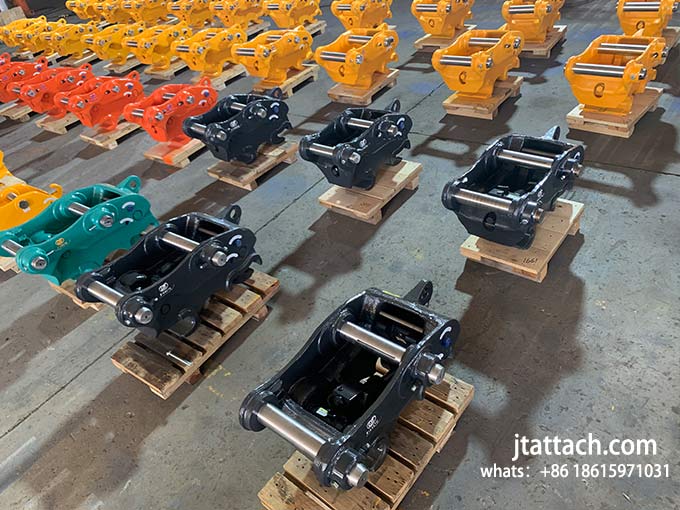 Safety issues
Triple safety: safety pin, index pin, lock block.
Please check the following specifications to choose the right Quick Coupler model.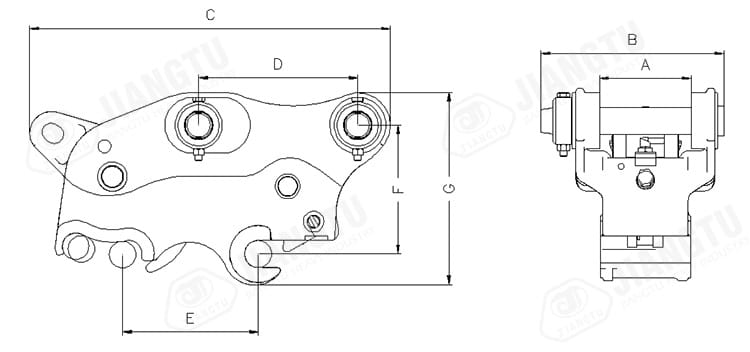 Casting/Welding mechanical quick hitch coupler for excavators

Category/Model 
Unit
JT-00
JT-01A
JT-01B
JT-02
JT-04
JT-06
JT-08
 C
mm
400
410
455
520-542
581-610
760
920-955
 B
mm
240
280
295
260-266
265-283
351-454
450-483
 G
mm
185
250
258
312
318
400
512
 A Arm open width A
mm
90-120
110-130
120-140
155-172
181-205
230-317
290-345
 D Pins center distance
mm
90-130
140-180
190-230
220-275
290-350
350-400
430-480
 Pin diameter
mm
20-30
30-40
30-40
40-45
45-55
50-70
70-90
 E Cylinder strok E
mm
90-130
140-180
190-230
200-300
300-350
340-440
420-510
 F Vertical pins center distance
mm
185
165
170
200-210
205-220
240-255
300
 Weight 
kg
24
32
37
50-75
80-110
170-210
350-390
 Working pressure
kgf/cm3
30-400
30-400
30-400
30-400
30-400
30-400
30-400
 Necessary flow
l
10-20
10-20
10-20
10-20
10-20
10-20
10-20
 Excavator
ton
0.8-2
2-4
2-4
4-6
6-9
10-16
18-25
JIANGTU Mechanical Quick Hitch Coupler for

Common Excavator Models and Brands

Model
Carrier tons
Catterpillar
Volvo
JCB
Kubota
Bobcat
John Deere
Komatsu
Yanmar
JT-00
0.8-2
CAT301.7
ECR18 Electric/ECR18E
JCB 8061
U-15-3S/U17
E10/E17z
17G/26G 
SH120-3/PC18MR-3
SV08/ViO17
JT-01A
2-4
CAT302 CR/CAT303 CR
ECR25 Electric/ECR25D
 
U20-5/U30-5
E32/E35
35G/30G
 
ViO27-6/ViO38-6B
JT-01B
2-4
CAT303 CR/CAT303 CR
ECR25 Electric/ECR25D
 
U20-5/U30-5
E32/E35
35G/30G
 
ViO27-6/ViO38-6B
JT-02
4-6
CAT306.5
EC60D /EC55 Electric
 
KX163-5/KX155
E45/E50
50G
PC56-7/PC58-8
ViO20-3/ViO60-6B
JT-04
6-9
CAT307.5
EC75D 
JCB JS85/JCB 8061
KX175-5/KX185
E63/E85
60G/75G
PC60-8/ PC70-8
ViO85/ViO75-A
JT-06
10-16
CAT316 GC
EC130
JCB JS130LC
 
 
135G
PC130-7/PC110-7 
 
JT-08
18-25
CAT323 GX/CAT323
EC220DL/EC220D
JCB JS240LC/JCB JS230LC
 
 
160G LC
PC220-8/HB215LC-1
B7Σ-5A
Tell us the brand and model of your excavator, We are very glad to help you to select a right Quick hitch Coupler .
Related Articles

Features:
1.Fit to 2.5-18 ton machine; Q345B material with advanced mechanical design; simple structure with lower cost. Easy installation.
2.Long stroke for different pin center distance attachments.
3. By wrenching spanner to switch the attachments.
4. Not suggested for 20 ton and above machine.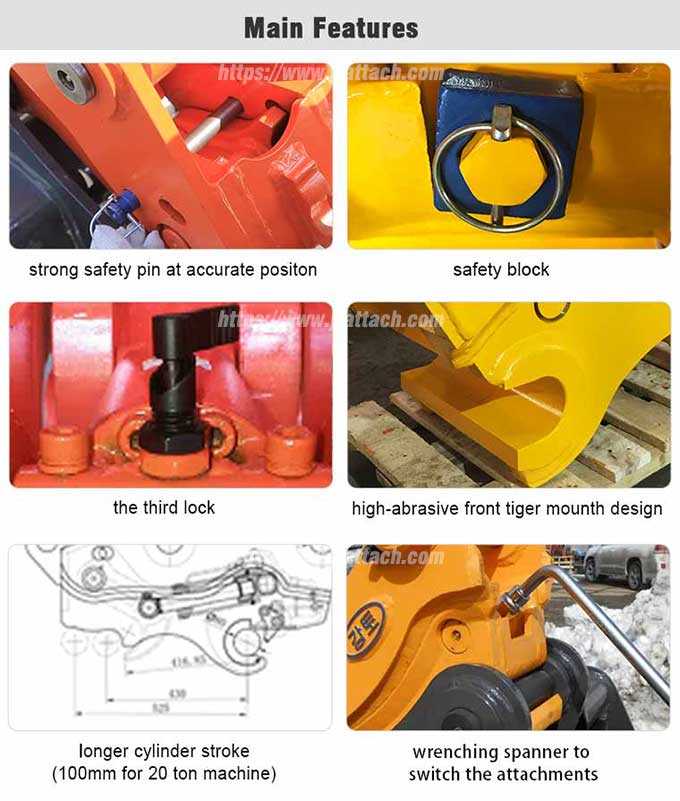 Product  Advantages
♥ The Specifications of this equipment are subject to change for improvements.
Excellent performance with high durability. The company has been developed to meet with the high standards of the current market.The demand for high durability and low maintenance costs on hydraulic equipment are combined in the total design of our attachments.
Main Advantages of JIANGTU Mechanical quick hitch coupler  :
1.12 months warranty;
2. Q345B materials body with USA-made solenoid valve;
3. Original Germany-made oil seals and joints;
4. Original Japan-made switch;
5. Full set spare parts ready for installation: pins, pipes, solenoid valve, switch, wire harness, manual, kit, bolts and nuts etc.
Contact me now for more details and the latest Price list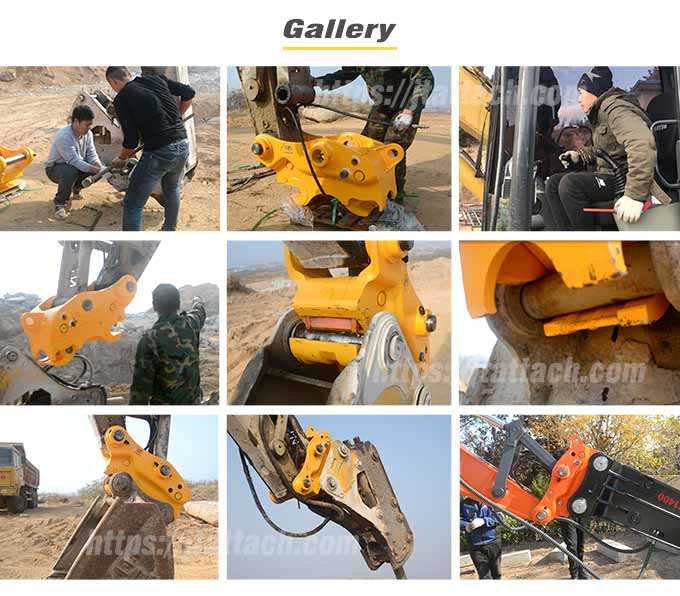 Why should you need a quick hitch coupler ?
1. Mainly used in the need to frequently replace the front end of theexcavator working device in the work plan.
2. Ten seconds to complete the switch.
3. Time saving, labor saving, simple and convenient.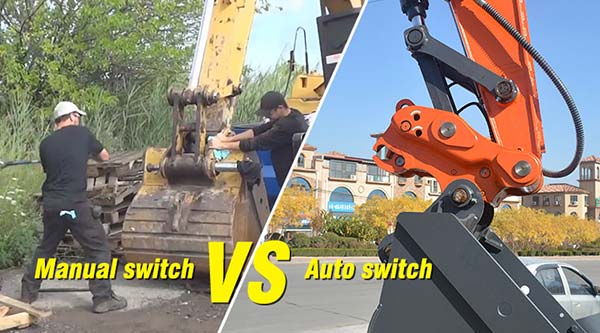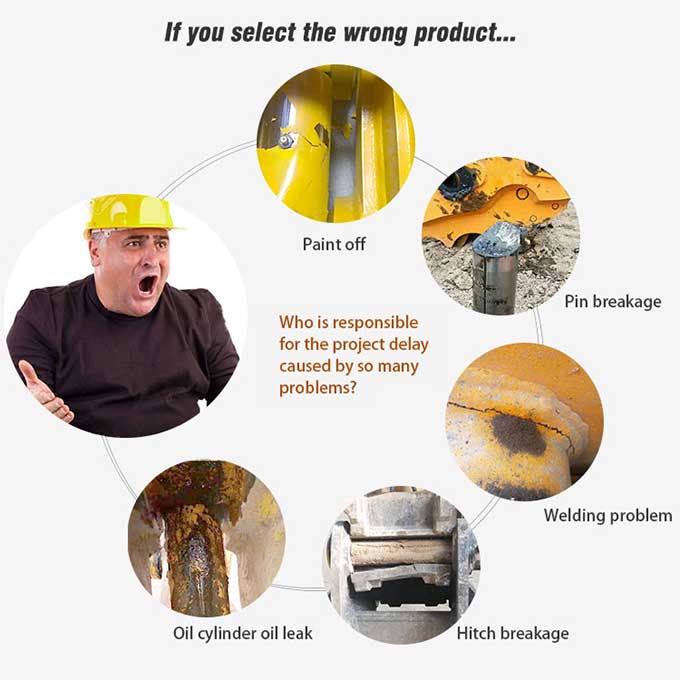 select-the-wrong-Hydraulic-quick-hitch-coupler-for-excavator
Why choose us ?
1. As the leading quick hitch coupler manufacturer in China, we have 10 years of experience in developing and manufacturing quick hitch coupler.
2. Strong R&D department with 6 professional engineers and more than 40 skilled workers.
3.Strict QC system, ISO9001:2008, and CE certificate.
4.12 months warranty after receiving the product.
5. The OEM/ODM and customization service are available.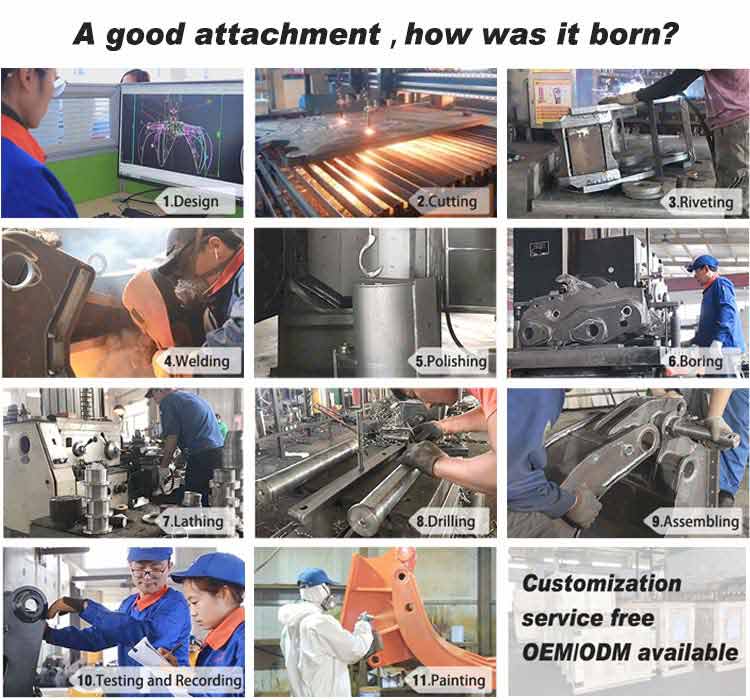 JIANGTU Mechanical quick hitch couplers, produced by the factory, price concessions, direct shipment from the manufacturer, minimum order of one piece, can be sent worldwide, click for a quotation
Our Services of JIANGTU Excavator quick hitch
1. We can offer a comprehensive range of excavator quick hitches such as hydraulic quick hitch, tilt hitch, Mechanical quick hitch coupler for excavator, Double Locking excavator bucket quick coupler, etc…
2. You may rest assured that all of our products can be supplied in a wide range of designs, and the product can be customized according to your personalized requirements. Meanwhile, we can offer an excellent after-sale service.
3. We will keep your business information confidential.
4. We promise to reply to you upon receipt of your inquiry within 12 hours.
5. The order will be produced exactly according to your detailed requirements and bucket dimensions. Each attachment will be tested before delivery. Our QC will submit the inspection report before shipment.
OEM
Offer your design documents or tell us your ideas and our R&D team will do the rest.
Warranty of JIANGTU Excavator Quick couplers
JIANGTU Excavator quick couplers are guaranteed against failure due to defective design, materials, or workmanship for a period of one year or 2,000 hours. Within the first 6 months, we offer a free replacement service.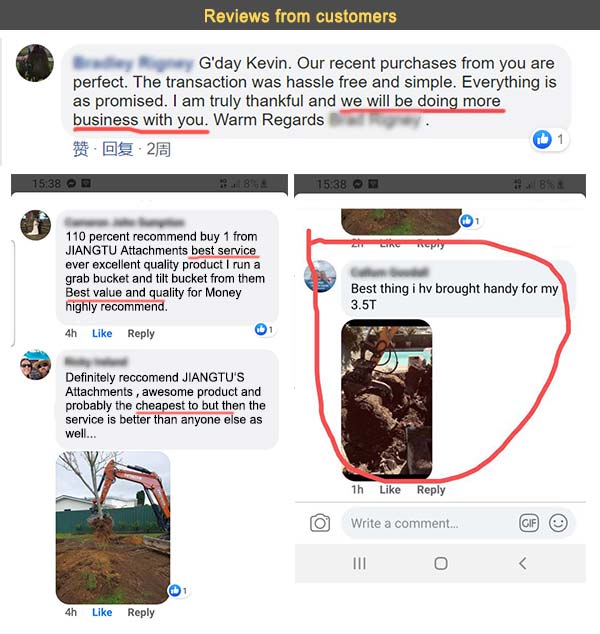 FAQS
Question:Which country have you been exported?
Reply:
Russia, USA, Canada, Japan, Korea, Malaysia, Hong Kong, Taiwan, India, Indonesia, Australia, New Zealand, Israel, South Africa etc.
Question:How about the Shipment?
Reply:
Shipment can be made by sea, air or land. Sea loading ports include Qingdao, Yantai and Shanghai etc. Sales manager will select an optimal shipping method for you. For more information, please contact with customer service staff.
Question:How about the package?
Reply:
Our attachments are packaged by standard export wooden cases free from fumigation.
Question:How about delivery time?
Reply:
Usually 15 days subject to order quantity. Due to the surge in orders, please check with customer service staff for lead time.
Question:What's the MOQ and payment terms?
Reply:
MOQ is 1 set. Payment by T/T, L/C, Credit Card, and Western Union is acceptable. Other payment method can be negotiated.
Question:Can I customize a product?
Reply:
Sure, we can provide OEM and ODM service.
Question:Are you sure your product will fit my excavator?
Reply:
Yes, we are professional attachments manufacturer, We make attachments according to your excavator bucket dimensions.
Question:Are you a manufacturer?
Reply:
Yes, our factory was established in 2011.
Ready To Know More?
Find out which attachment works best for you and get a quote!