JIANGTU pulverizer for excavator is the ideal excavator attachment for demolition and recycling of concrete materials from a variety of different industries and applications. This type of excavator equipment can be used for primary and secondary demolition projects.
JIANGTU hydraulic pulverizer for excavator can be used to demolish concrete floors or low walls. It will provide the following benefits: low noise and vibration, good fragmentation, good separation of steel wire from the concrete material, re-utilization of crushed concrete as aggregate material, recycled steel can be sold to the steel mill industry.
Specification
Videos & Images
Features
Certificate
Services&Warranty
Review
Product description
JIANGTU Excavator Pulverizer is a perfect tool for secondary demolition and recycling of concrete. High-grade steel with special seals keeps dust and other debris from pins, ensuring long life and low maintenance.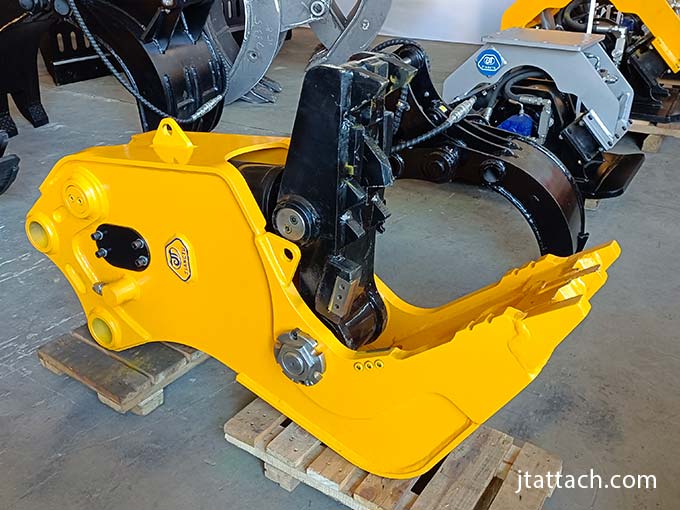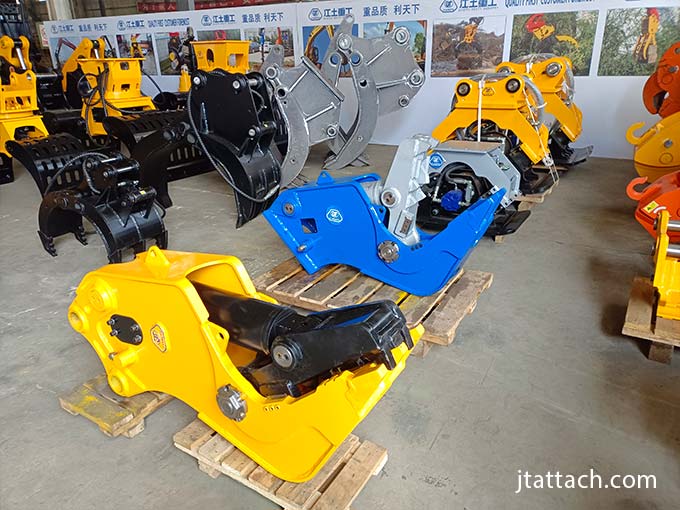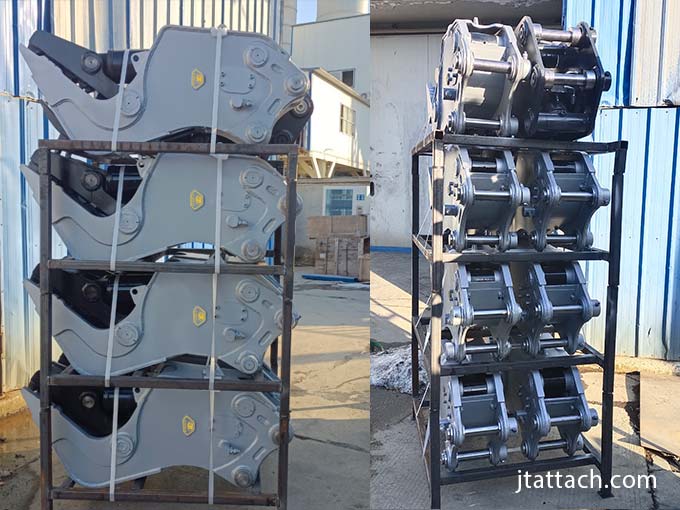 A high-performance cylinder reduces the time needed to open and close jaws, increasing productivity while two replaceable steel bar cutters provide maximum efficiency in cutting rebar.
Tell us the brand and model of your excavator, We are very glad to help you to select the right Hydraulic Pulverizer for excavators.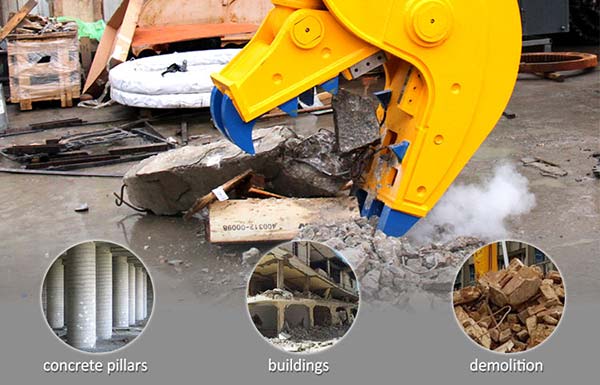 Please check the following specifications to choose the right Hydraulic Pulverizer model.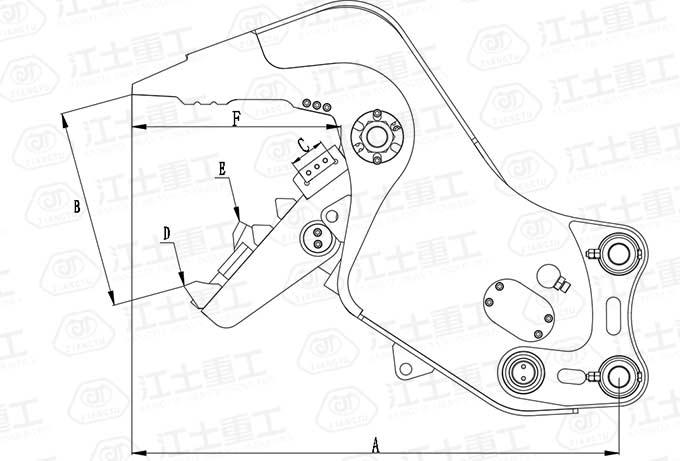 JIANGTU Hydraulic Concrete Pulverizer for excavator
 
Unit
JT02
JT04
JT06
JT08
JT08S
JT10
B最大张幅Max Open
mm
420
600
750
860
900
1100
C刀片长度Cutter Length
mm
75
95
112
180
180
360
E中央粉碎力Crushing Force
Kn
170
260
470
994
994
1350
工作压力Working Pressure
Mpa
24
24
31
32
32
32
工作流量Oil Flow
Lpm
80-120
100-140
120-180
180-250
180-250
200-300
适配挖机Carrier
Ton
3-5t
6-9t
10-15t
18-25t
20-30t
30-40t
重量Weight
kg
270
480
880
1600
1980
2700
♣These specifications are subject to change without prior notice for the improvement of quality.
♣The company has been developed to meet the high standards of the current market.
♣The demand for high durability and low maintenance costs on hydraulic equipment are combined in the total design of our concrete pulverizer for excavator.
JIANGTU hydraulic Pulverizer, produced by the factory, price concessions, direct shipment from the manufacturer, minimum order of one piece, can be sent worldwide, click for a quotation
Related Articles

Main Features & Benefits of JIANGTU hydraulic concrete pulverizer for excavator for sale:
1). Non rotation & 360° rotation available;
2). Equipped with German-made M+S motor, more powerful and stable.
3). High Quality of Material: Using HARDOX400-500 steel for shears.
The entire structure, excluding the top mounting bracket, is fabricated from special steel to provide maximum strength and abrasion resistance.
4). Large Diameter Hydraulic Cylinder:
This cylinder provides maximum force and is simple to maintain.
5). 12 months warranty.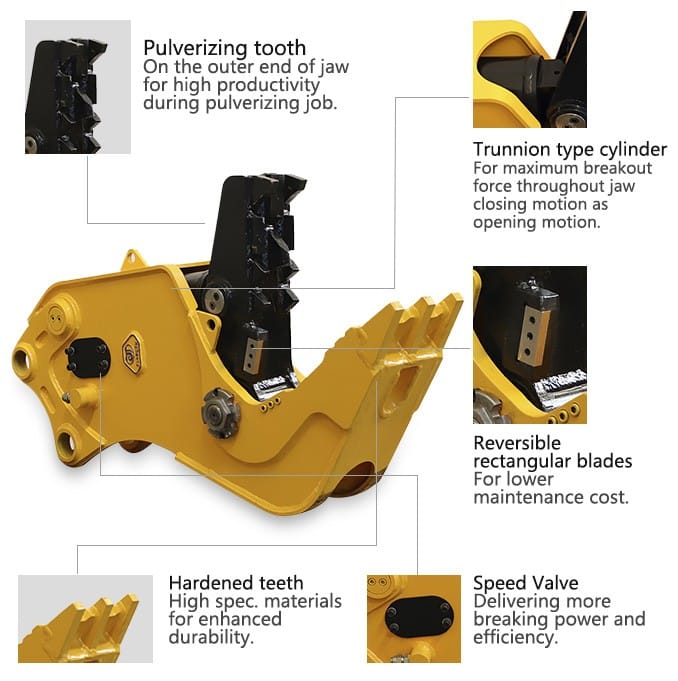 excavator-attachments-concrete-pulverizer-Cut-Steel-Hydraulic-Concrete-Pulverizer-Crusher-features[/p]
Why choose us ?
1.  As the leading hydraulic pulverizer manufacturer in China, we have 10 years of experience in hydraulic pulverizer developing and manufacturing.
2. R&D department,with 6 professional engineers and more than 40 skilled workers.
3.Strict QC system, ISO9001:2008 and CE certificate
4.12 months warranty after receiving the product, 6 months free replacement.
5. The OEM/ customization service is available.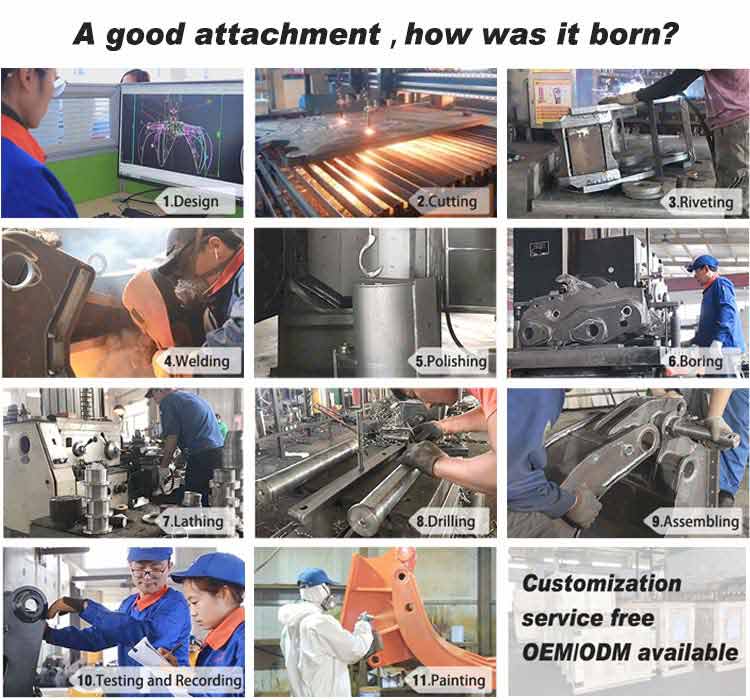 Our Service

1. We can offer a comprehensive range of  Hydraulic Pulverizer,  excavator shear, Hydraulic scrap shear, Hydraulic Crusher,  hydraulic concrete pulverizer, hydraulic pulverizer excavator, hydraulic rotary pulverizer, rotating hydraulic pulverizer,  Hydraulic Pulverizer attachments.


2. Of course, You may rest assured that all of our products can be supplied in a wide range of designs, and the product can be customized according to your personalized requirements to meet your requirements. Meanwhile, we can offer an excellent after-sale service.

3. Your business relationship with us will be confidential to any third party.

4. We promise to reply to you upon receipt of your inquiry within 12 hours.

5. The order will be produced exactly according to order details and proofed samples, our QC will submit an inspection report before shipment.

OEM

1. Offer your design documents or let our design team work out some concepts for choosing.
2. We will always provide you with a virtual pre-production proof that shows the exact placement of your logo on the product.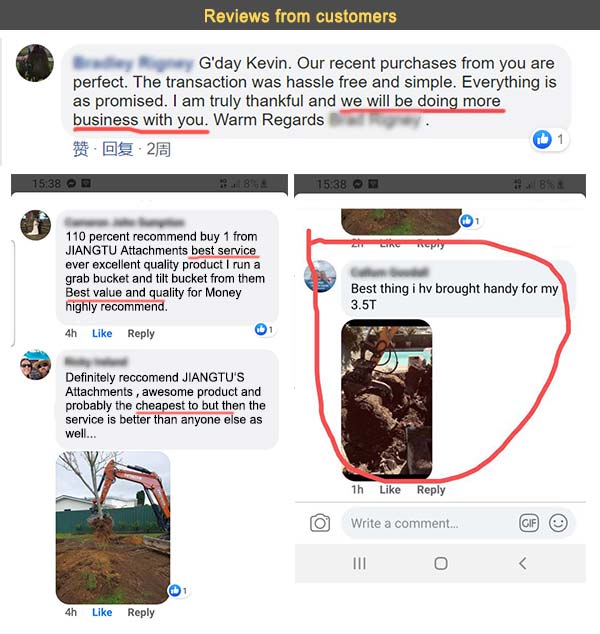 FAQS
Question:Which country have you been exported?
Reply:
Russia, USA, Canada, Japan, Korea, Malaysia, Hong Kong, Taiwan, India, Indonesia, Australia, New Zealand, Israel, South Africa etc.
Question:How about the Shipment?
Reply:
Shipment can be made by sea, air or land. Sea loading ports include Qingdao, Yantai and Shanghai etc. Sales manager will select an optimal shipping method for you. For more information, please contact with customer service staff.
Question:How about the package?
Reply:
Our attachments are packaged by standard export wooden cases free from fumigation.
Question:How about delivery time?
Reply:
Usually 15 days subject to order quantity. Due to the surge in orders, please check with customer service staff for lead time.
Question:What's the MOQ and payment terms?
Reply:
MOQ is 1 set. Payment by T/T, L/C, Credit Card, and Western Union is acceptable. Other payment method can be negotiated.
Question:Can I customize a product?
Reply:
Sure, we can provide OEM and ODM service.
Question:Are you sure your product will fit my excavator?
Reply:
Yes, we are professional attachments manufacturer, We make attachments according to your excavator bucket dimensions.
Question:Are you a manufacturer?
Reply:
Yes, our factory was established in 2011.
Ready To Know More?
Find out which attachment works best for you and get a quote!